Transforming your kitchen is exciting, but it can be tricky to know where to start. We run through some kitchen design ideas for inspiration regardless of your budget or kitchen size. 
Before you buy – or even start the process – take a look at our best kitchen brands guide to find out which companies earned a Best Buy badge. Not only do we test them in our lab, customers have judged them on durability, customer service and value for money. 
Kitchen layout ideas
Before you start, think about the layout of your kitchen. Kitchen layouts tend to fall into six main categories:
L-shaped kitchens
U-shaped kitchens
G-shaped kitchens
Single-wall kitchens
Island kitchens
Galley kitchens.
Flick through our gallery for visual examples of each type:
Kitchens pictured above are from B&Q, Wickes, Magnet, Ikea and Wren Kitchens (in order shown). 
Kitchen island inspiration
Often, when people think about their ultimate kitchen, a lavish kitchen island is part of the picture. 
Kitchen islands come in many shapes and sizes and fulfil different purposes. They are:
Ideal for additional storage and can encompass a variety of storage options.
A great way to create a breakfast bar or seating in your kitchen.
Perfect for making a statement or focal point in your kitchen.
An easy way to create more work-surface space.
Useful for housing kitchen essentials, such as a hob.
A good way to 'zone' your kitchen if your home is open plan.
Think about how you're going to use your island in relation to the rest of your kitchen. What do you want it for? How will it affect the workings of the rest of your kitchen? Once you know that, you can be clearer on what size and type to get, as well as how to position it.
Islands can be as big as you want but, if you're tight on space there are also slimline versions. You can also get one on wheels so that it can be moved out of the way when needed (more on this below).
Another way to save space is to get a peninsula instead. This is essentially where units carry on from your current kitchen and jut out into the room. You can see an example in the gallery below.
Whatever you do, one key thing to keep in mind is how much space it will take up and what usable space you will have around it. Think about the 'kitchen triangle', which helps you plot out the distance you need to leave between different parts in your kitchen. 
Our gallery includes a range of kitchen ideas, from kitchen islands with seating to statement islands, to help get you thinking about what you want.
Freestanding kitchen islands
A freestanding kitchen island is exactly what it sounds like: an island that isn't fixed into position (you can see a couple of examples in the gallery above). 
It will usually have legs, lifting it just off the floor or even creating more of a table, depending on what you opt for. They come in the range of sizes, from compact to as big as any other type of island. These types of islands don't usually house appliances or sinks, so take this into consideration.
These kitchen islands are brilliant for small kitchens as it will give you extra worktop space. Some models include storage underneath, and can also double up as a place to eat or a trolley to move food and drink between rooms when you're entertaining.
If you're keen on this type, make sure you buy one that has locks on the wheels so that it will stay in place when needed. Also think about where you will move it to: is there actually space in your kitchen to take it out of its position?
---
Trying to work out the perfect plan for your kitchen? Head over to our kitchen planning guide to get all the details right.
---
Small kitchen ideas
If you have a kitchen that's more compact than you'd like, there's plenty you can do to transform it into a beautiful but practical space that works for you.
Choosing the right kitchen cupboards
If you don't mind losing a bit of worktop, consider a full height cupboard. Or look for taller wall units or bespoke cupboards fitted up the ceiling to take advantage of more of the vertical space in your room.
Corners are often wasted when you install standard units, so instead choose corner cabinets with carousels that make better use of the space.
Read our guide on how to find the best kitchen worktops, cabinets and doors.
Maximise your kitchen storage
Storage is vital in any kitchen, but particularly when it's a small one, so think creatively about the space you have to play with.
You can buy a vast array of baskets, shelf-risers, racks, hooks and other items to make the most of the storage space inside cupboards and drawers.
Even the most overlooked areas can be useful. The top of the fridge or microwave can house small appliances you don't use very often, such as blenders.
Or your window sill could become a bookshelf for your favourite cookery books, as long as it doesn't block the light.
A breakfast bar or a fold-out table can be a good way to add much needed dining space into a small kitchen and it can also provide extra work surfaces for preparing meals. 
Another thing to consider are appliances. Integrated appliances that are built into your kitchen units can give a sleeker, tidier appearance and be great space savers.
Read our guide on how to find the best appliances for your kitchen.
Open-plan kitchens
Open-plan designs are trendy at the moment but there's a few things to consider before you take the plunge:
Smells and noises. An

efficient cooking hood

will help, as well as having good ventilation in the room. If you're buying new appliances, opt for a

self-cleaning oven

if you can, and look for appliances that have scored well in our reviews for being quieter.
Using furniture or paint colours to create different zones denoting where your kitchen ends and dining area starts. Screens, curtains or sliding doors are a great way to temporarily close off an area without having them permanently divided.
Make sure your kitchen will work for your lifestyle. Do you want to be able to watch the TV in the living room from the kitchen, for example? Do you need to keep an eye on the kids playing while you're cooking? Will it be easy to carry and serve food from the area where you're preparing it to the area where you'll be eating? 
It's easy to inadvertently create 'dead' areas between the rooms. Make the most of them by thinking about the spaces individually and how you could use or connect them to the surrounding rooms. 
Check your open-plan space will meet building regulations in terms of fire safety. Speak to a

Which? Trusted Trader builder

or

Which? Trusted Trader kitchen specialist

for advice. 
Kitchen diner ideas
Here are a few tips to help you combine your kitchen and dining room into one:
Use a kitchen island or peninsula with seating to enable you to eat in your kitchen. You, your family or guests will need to be comfortable with high seats or stools though.
An extendable table will enable you to cater for larger parties or gatherings but not take up too much space day to day.
Placing a table in a corner, which you can leave there or pull out when needed if you have the space, will use an areas that might otherwise be a wasted.
If you're short on space, a pull-down or fold-away kitchen table could be a good option.
Bench seating, as mentioned above, can enable to you seat more guests.
A round table, particularly a small one, can be a good space-saver. You can also get ones where the chairs fit around the curve and therefore completely underneath the table
Even if you don't have a round table, make sure the chairs won't stick out into the room and cause an obstruction when they're not in use.
Kitchen furniture options
Don't be limited in your kitchen plan by only looking at standard kitchen cupboards and shelves – there are lots of other options. 
Why not consider:
Freestanding shelves or cupboards, or a combination of the two, like in the image above
A dresser – these are typically country-style, but you can get modern versions
A sideboard, as an island or along a wall to create additional storage  
A table – either a console or normal-sized one
A trolley, ideally on wheels so that it can be moved
These can open up your storage options from cupboards with simple shelves or drawers and can be used in a number of different ways – as a kitchen larder, to display china or glassware, as a wine rack, to hide away appliances that you don't want to have built in or to create another work surface. 
They can also be cheaper too, especially if you revamp an old piece of furniture. Scroll down for more cheap kitchen ideas.
Visit our page on kitchen planning for more on freestanding kitchens and storage ideas. 
Kitchen benches
A kitchen bench is the perfect way to create a social space. Using one at a table will enable you to fit more people around it, while a bench running along a wall will give guests or the family somewhere to sit while you cook.
A fitted bench seat is a good way to maximise space, especially if you use it as an eating space and it has storage built in too. 
If you're looking for a reliable carpenter to help you create something bespoke for your space, use Which? Trusted Traders. All our traders have been through our rigorous checks by experts from Trading Standards.
Kitchen colour ideas
Clever use of colour can make your small space feel bigger which is key if you have a small kitchen. 
Using the same colour across the cupboards and walls will give you a seamless look, making the space appear 'endless'.
And that doesn't mean you have to stick to neutrals. If you use the same colour consistently, a deeper shade could give the wow factor. Just steer clear of very dark colours.
An alternative approach is to make a statement with splashes of bold colour, to draw people's eyes to the design rather than the dimensions. You could create a feature wall, brighten up kitchen doors or install a coloured splashback.
If you want to use patterns, horizontal stripes can make a room feel wider while vertical lines will give the appearance of a higher ceiling.
Kitchen tiles and sinks
Tiles are a great way to give style and character to your kitchen. Coloured tiles can add personality to your kitchen, whereas patterned tiles are better to jazz up what could be a more traditional kitchen, without it becoming overwhelming.
Kitchen tiles are popular as part of a splashback. Geometric tiles have become a popular trend in recent years.
Kitchen floor tiles
When tiling a high-traffic area you'll need easy-to-clean and durable tiles. 
For a unique design choice opt for patterned tiles (think geometric or ever-popular chevron style) or checkerboard.
If you're less keen on experimenting, large monochrome tiles are also fashionable. 
Kitchen sink options
The kitchen sink is a key part of the kitchen triangle, so you want to choose a material that will prove durable, especially if you cook regularly. 
You should also think about type, size and style. A double sink, aka divided sink or double-bowl sink, is handy if you don't have a dishwasher and so do a lot of washing by hand, as you can fill one with hot water for cleaning and use the other one for rinsing dishes off.  
You'll need to choose between an inset and an undermount one. 
Inset: This is the traditional one. The bowl of the kitchen sink drops down into your kitchen worktop. 
Undermounted: The sink fits underneath the worktops. It usually lacks a sink drainer, so they are more in line with a minimalist look. 
Kitchen sinks take a hammering – think about all the pots and pans that end up there. So it's wise to go for a durable option. 
Stainless steel – One of the most popular options, stainless steel will endure plenty of hardship in a busy kitchen and makes for an affordable option.
Granite composite – They can really add a unique character to your kitchen and are durable, but can get pricey. 
Ceramic – These tend to be durable and look traditional.
Composite – This can be a more affordable option than granite.
Kitchen lighting
The lights in your kitchen are as important as your worktop or cabinets, elevating it to the next level and it is important to give your kitchen a spacious feel. 
You can use statement lighting to make your kitchen distinctive. But make sure to avoid blocking natural light coming into the room by keeping windows clean and clear.
Go for bright ceiling lights, such as spotlights, that won't be obstructed by a shade. Add lights under your kitchen units to brighten up worktops.
Glossy, reflective or mirrored surfaces can help to bounce the light around the room, which is particularly key if you have a small kitchen.
You could choose stainless steel units and appliances for an industrial feel, or high-gloss cupboards, which come in a range of colours and finishes.
Or install a glass or reflective splashback, either as a one-piece or using tiles. Cupboard doors with clear glass panes can also add light to your room and allow you to display your best china.
How to update an old kitchen on a budget
If you've got a small budget, take a look at these tips to help you transform your current kitchen inexpensively.
Stick to your existing kitchen layout
Keeping electrics and plumbing in the same places will help to keep costs down, as it'll reduce the need to hire specialist contractors. 
Even if you need to get a professional to install new appliances, it will take less time and money if they're being wired into the same spot as before.
Buy an ex-display kitchen
You may be able to pick up an ex-display or even a second-hand kitchen for significantly less than a brand new one. 
As well as saving you money, it's a sustainable option as it could also prevent the kitchen from ending up in landfill. 
Replace kitchen worktops and fronts cheaply
Some builders' merchants, local kitchen manufacturers and specialist companies will supply new kitchen unit doors, drawer fronts and worktops, at a fraction of the price of an entirely new kitchen. For more pricing details on these updates, head to our guide on kitchen costs.
If materials such as marble and granite are out of your price range, there are a lot of laminates that do a good job of mirroring the real thing while giving it a high-end look.
Steer clear of fixtures that are too different from those you already have. For example, handleless doors may not be compatible with your cabinets, because they operate on a runner.
Add colour to your kitchen
Attractive tiles add instant glamour. Rather than paying to cover the entire room, create feature areas with small collections of tiles.  
Repainting your kitchen walls and/or kitchen unit doors is much cheaper than replacing the whole kitchen and, as we said before, can completely transform its look and feel. 
Deep shades and rich tones look particularly luxurious. Be bold and paint the entire room, or choose specific areas to draw the eye. 
Make sure you use suitable kitchen paint, which is more moisture resistant, and prepare the surfaces as instructed. Find out more about the best washable paints for kitchen walls (although these won't be suitable for wooden kitchen cabinets).
Again, ensure you have good lighting: it could make the difference between a modern, fresh-looking kitchen and a dingy-looking one. Check out our guide to buying the best lightbulbs. 
Another easy and budget-friendly way to add a pop of colour is by choosing jazzy appliances next time yours need replacing. Check out our guide to the best kettle and toaster sets.
Consider open kitchen shelves
Shelving can be a practical and cost-effective alternative to buying new cupboards, and will help to give your kitchen a more open feel.
You could install shelves instead of wall units, or add them above the cupboards to store the things you don't use very often, like that bulky cake stand that only comes out twice a year.
Bear in mind that shelves do expose the items stored on them to more kitchen grease and grime, so be prepared to spend a bit more time keeping them clean.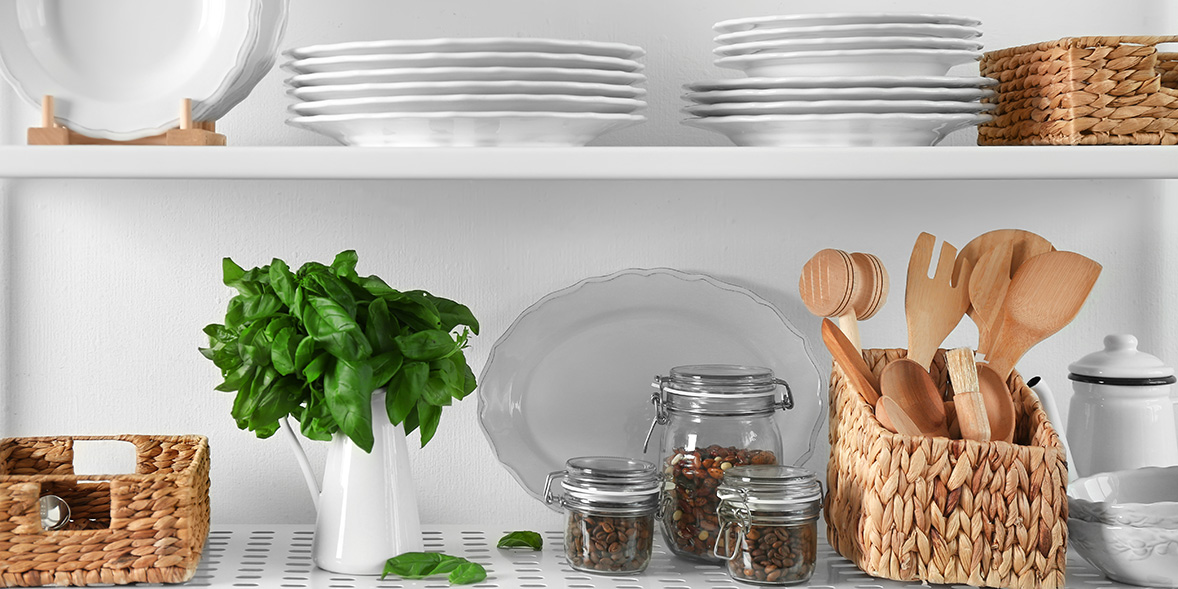 Replace your kitchen flooring cheaply
You don't have to spend a fortune to get a bold, distinctive floor.
Vinyl flooring is generally the cheapest type, starting at around £10 per square metre. Ceramic tiles are generally cheaper to buy and have fitted than porcelain or stone. 
You can buy cheap tiles for less than £10 per square metre.
Shop around for kitchen installation services
You may also be able to save on installation costs by finding your own kitchen fitter, rather than using the retailer's own service. 
You can use our Trusted Trader tool to look for a professional – all traders displaying our logo have been through our rigorous checks.
Always get at least three quotes to compare and ask for a total price for the job including all fittings and fixtures, rather than a rate per day. With a fixed cost for the whole project, there are less likely to be nasty surprises.
And if you need to overhaul other rooms cheaply too, find out more about updating a bathroom on a budget. 
Visit our kitchen costs guide to find out what you should expect to pay for a new kitchen. We look at price guides for some well-known kitchen brands, and to find tips from experts and thousands of kitchen owners on how to keep your costs down.
Kitchen paint: what you need to know 
Whether you have lots to spend on your kitchen or are on a shoestring budget, paint is a great way to transform the space and inject your personality. 
However, you need to make sure you choose paint that is moisture resistant, durable and wipe-clean, especially if you have children. Look for a kitchen-specific paint that should do all of these jobs. 
Some paints are claimed to be mildew and mould resistant, with guarantees and the length of time this will last for: the longer the better. But specialist paints like this are often limited in terms of the colour palettes that are available. 
You could also use a semi-gloss or high-gloss paint, as these will still repel moisture and enable you to wipe away any mould that appears. However, these kind of paints tend to be more suited to small areas, such as window and door frames, as opposed to entire walls.
How to paint kitchen cabinets
Although it is tempting to jump in, professionals follow a process, so you should do the same. One important part of the process is starting by preparing cabinets by removing any hinges and handles. 
Look at surfaces and fill any dents with appropriate filler, and then sand them. 
Use a primer – this is an important step and it will help paint to have better adhesion.
Once you have done this, use a paint roller for the larger flat areas, and a brush for the edges and final touching up.
Paint drawers and doors separately.
Other things to watch out for
Drying time so that you're aware of how long it will take for your kitchen to be usable.
How much coverage a tin will give you: consider whether you'll need more than one coat – say, to cover something up or ensure a colour is rich.
Choose one with low levels of VOC if you have children, pets or can't ventilate the room well.
Check whether you will need to use a primer beforehand or whether you can paint straight onto the surface, once it's clean. 
See the best DIY shops as rated by customers. Alternatively, visit Which? Trusted Traders to find a vetted local trader to do the job for you.