When asked to describe her garden and design style, Mardi Schma has an immediate answer: "Things I love."
Turns out that she loves a lot: flowers, plants, antiques, mirrors, folk art, ceramic pots, chandeliers, metal containers, succulents, silver platters, rattan chairs, vintage tea cups, books, garden accessories and even old wooden canes.
"I have a passion for it all," Schma said.
The Napan, who is in her 80s, runs a small business called Nest by Mardi. Her work includes gardening, consulting, planning and design. She also hosts periodic sales of her vintage and antique finds.
Most of Nest is centered at Schma's Alta Heights home, which has a long and wide backyard, and two driveways. At the end of the second driveway is a mini "shop" with her antiques, a potting shed, and one end of her extensive garden. As a garden consultant and designer, she also visits client's homes to create "happy spaces."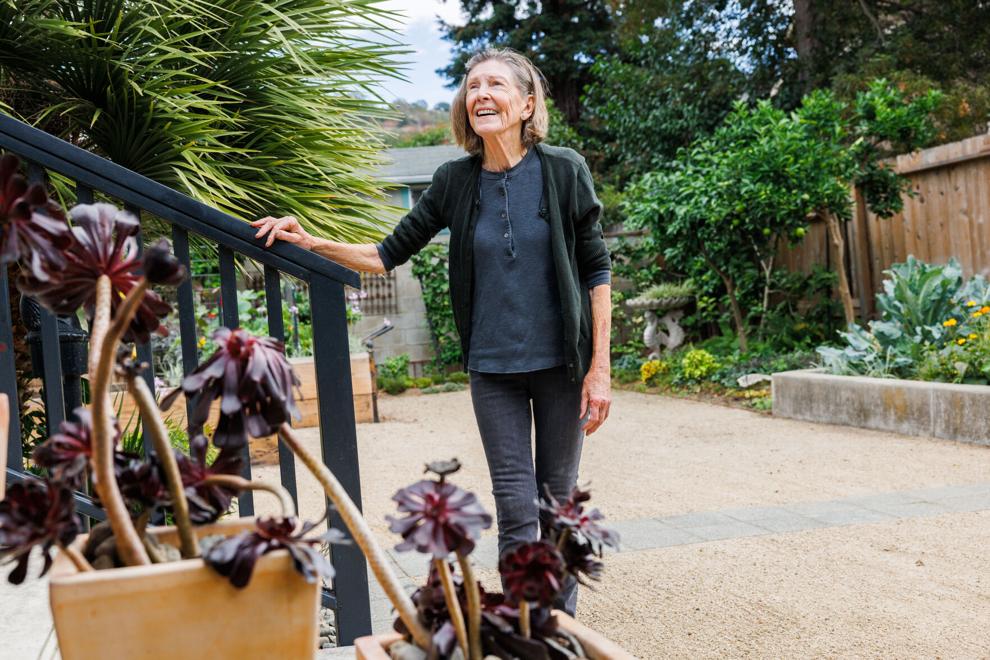 "I have always been interested in every aspect of gardening," said Schma. "My father had 100 acres in San Joaquin Valley, and he grew tomatoes and asparagus," and much more.
It was a passion that stayed with her even as she became a mother of six, and moved across the U.S. to Dallas and even further abroad to Japan. In Dallas, she started and ran a number of successful restaurants.
After moving to Napa Valley in 2001, Schma and her daughter Katie opened a café on the St. Helena highway at the intersection of Oakville Grade. It was also called Nest.
Schma eventually retired from the restaurant business and focused Nest on garden design. Today, her backyard is both a showroom and place for growing cuttings to be harvested for client projects or for sale. She likes to be financially independent, she said, and doesn't want to have to rely on her own children as she ages. Consultation rates start at $40 per hour, said Schma.
Sometimes she teaches clients how to take care of their own gardens.
However, Schma said she typically finds that people today are too busy with other work and family obligations.
"And then they feel guilty about not taking care of the garden," said Schma.
Don't do that, she advised. "If you hire me, I can teach you how to do it the easy way."
Schma said she works in her garden and yard every day, either trimming, pruning, planting, weeding or picking.
About how many hours a day?
"As many as I can," said Schma. "It just gives me pleasure to see the plants growing and all that."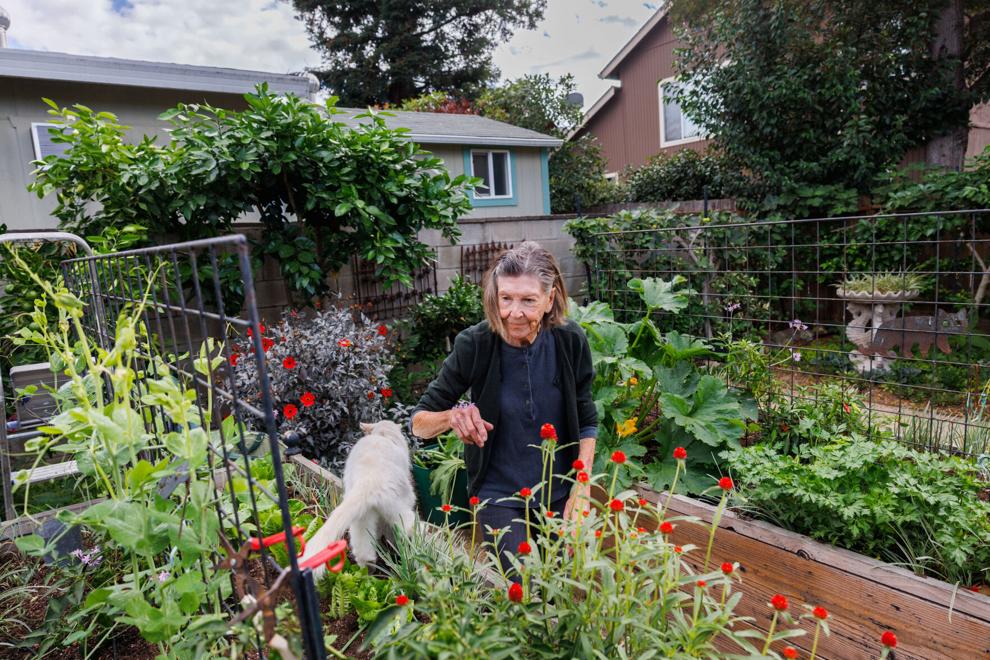 For example, the previous week she pulled hundreds of old iris bulbs from her front yard, separated them, and replanted them in fresh soil. A wheelbarrow next to her vegetable beds was full of deadheaded flowers. She's currently growing cauliflower, beets, peppers (but not spicy), zucchini, parsley and cucumbers. Carefully trimmed trees grow limes, lemons, tangelos, pears and persimmons.
In the midst of this all, flowers of every color decorate the space.
"I never think about what I do," when it comes to gardening and design, Schma said. "I just do it."
"Gardening gives you surprises," she said. For example, "Look at my cauliflower." Huge bouquets of the vegetable, bordered with light purple clusters, thrived in one planter box. When it's time for dinner, she just breaks off a cluster, said Schma.
Schma said she's especially fond of succulents. "To my way of thinking, succulents are the greatest plant that you could have in your garden." They require less care, you don't have to prune them, and they usually live through the winter, she said.
This garden expert does all the work herself.
When her back starts to hurt, she takes an aspirin or sits down, said Schma. A 15-minute nap is also recommended. "Just close your eyes on your bed," she suggested.
In past years, the small business owner has arranged to have several shipments of antiques from France sent over to Napa Valley. From one of those shipments, Schma secured about half a dozen faux bois planters, which sit on her front porch, filled with succulents.
The creativity continues inside Schma's home. It's filled with original art, vintage pieces, comfy couches, and groups of artwork with themes such as dogs, cats and flowers.
She doesn't always hang the art, said Schma. Instead, she rests framed photos and other pieces where the wall and floor meet. In a guest bedroom, rows of photos of her family line the floor under a window. Depending on which of her adult children is visiting, she moves photos of that person to the front, she said with a laugh.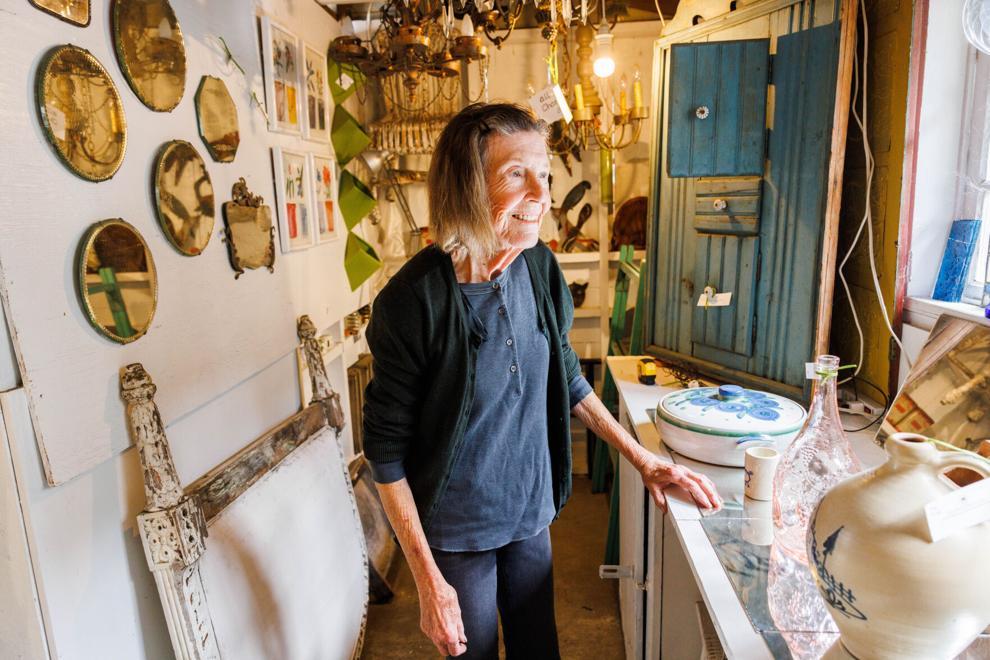 How would Schma describe her home decorating style?
"I don't think I have one," she replied.
When it was suggested that she seems to use whimsy, fun and humor in her designs, Schma agreed. "All of the above," she said. And symmetry. "Symmetry in design is big for me."
Photos: Go inside the 'Nest' of this Napa garden designer
Mardi Schma 4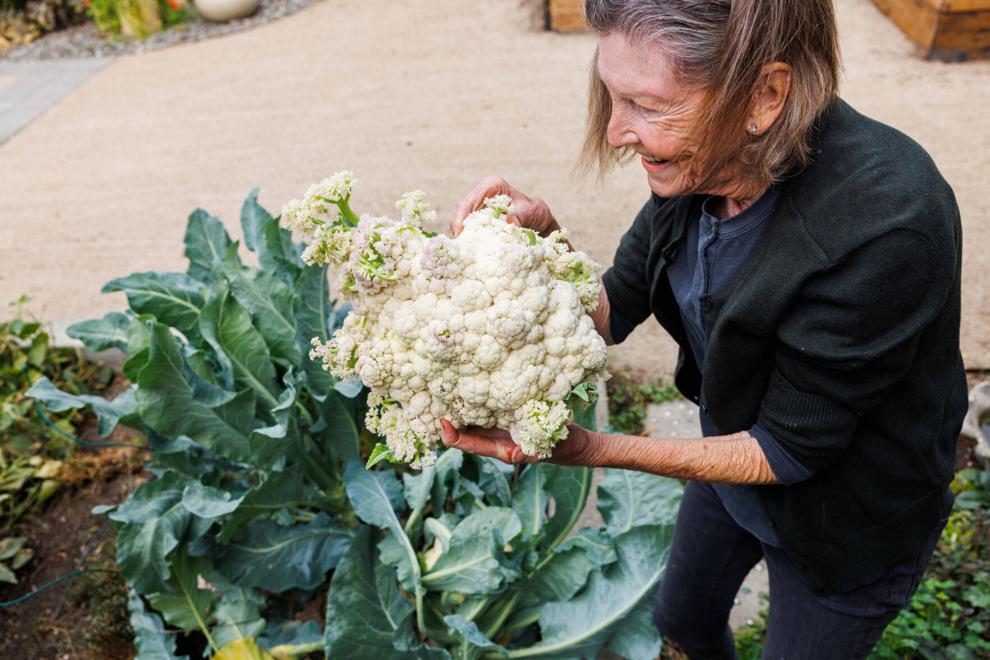 Mardi Schma 7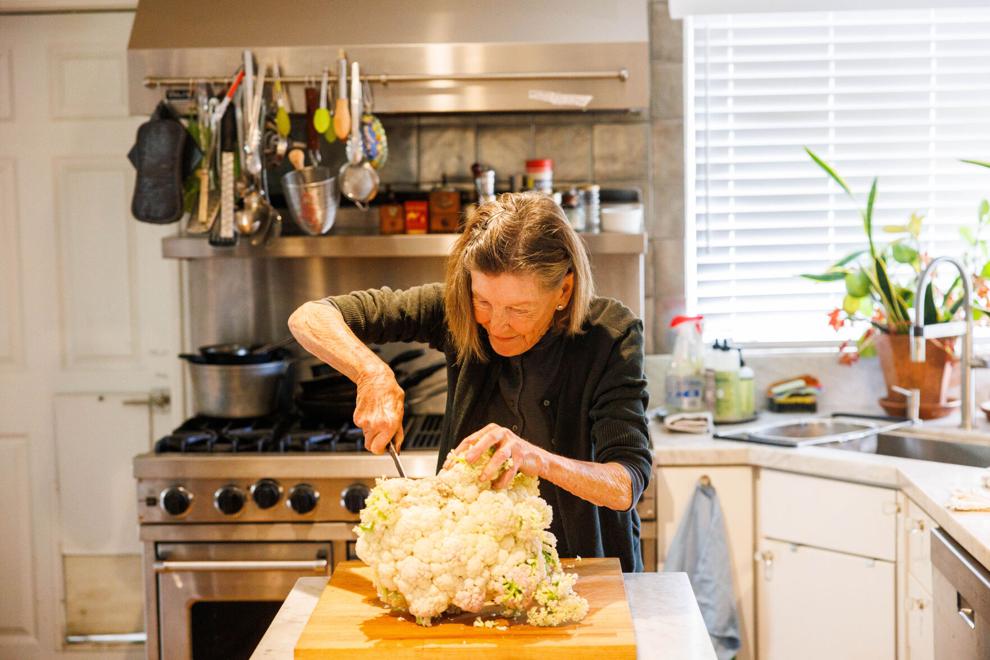 Mardi Schma 3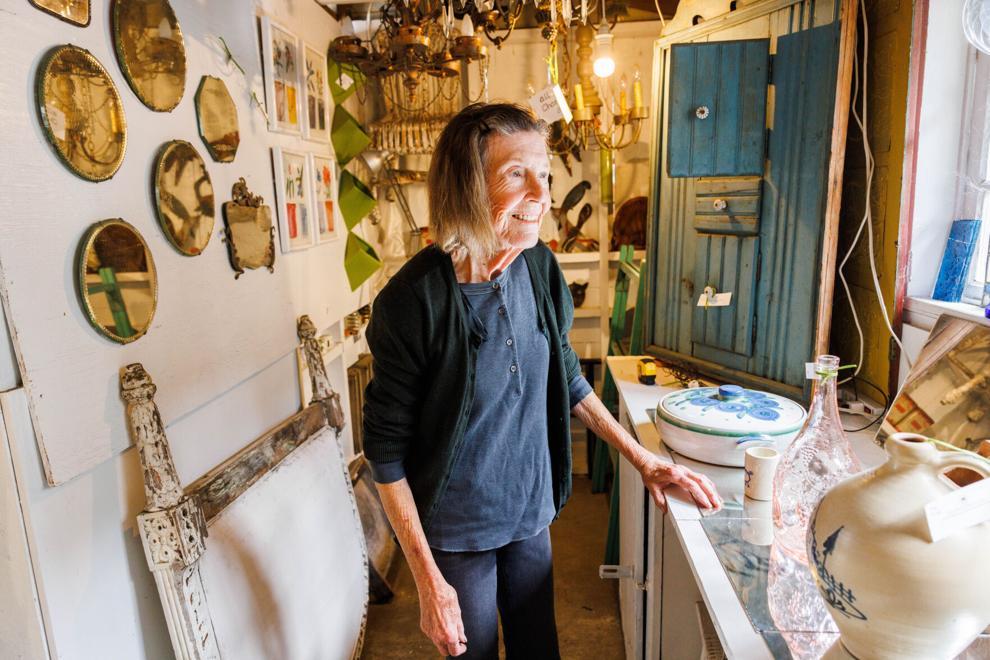 Mardi Schma 5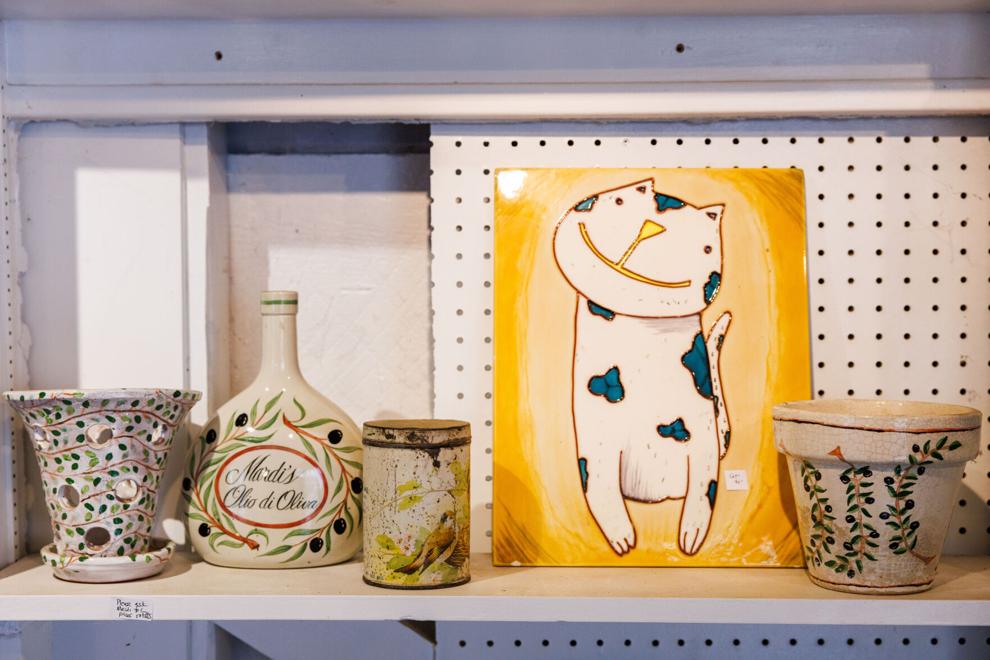 Mardi Schma 6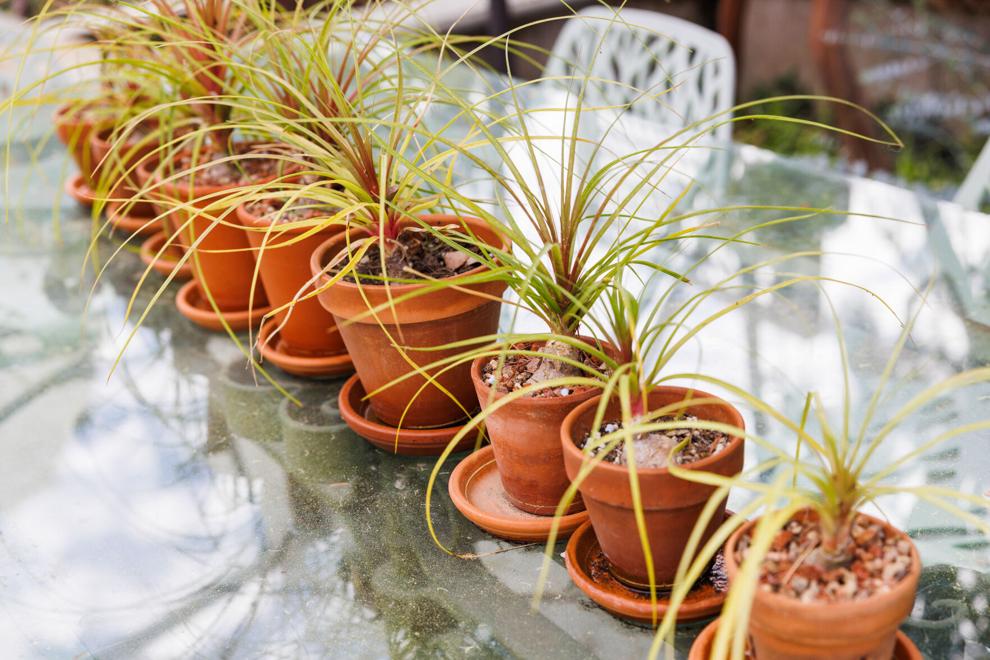 Mardi Schma 2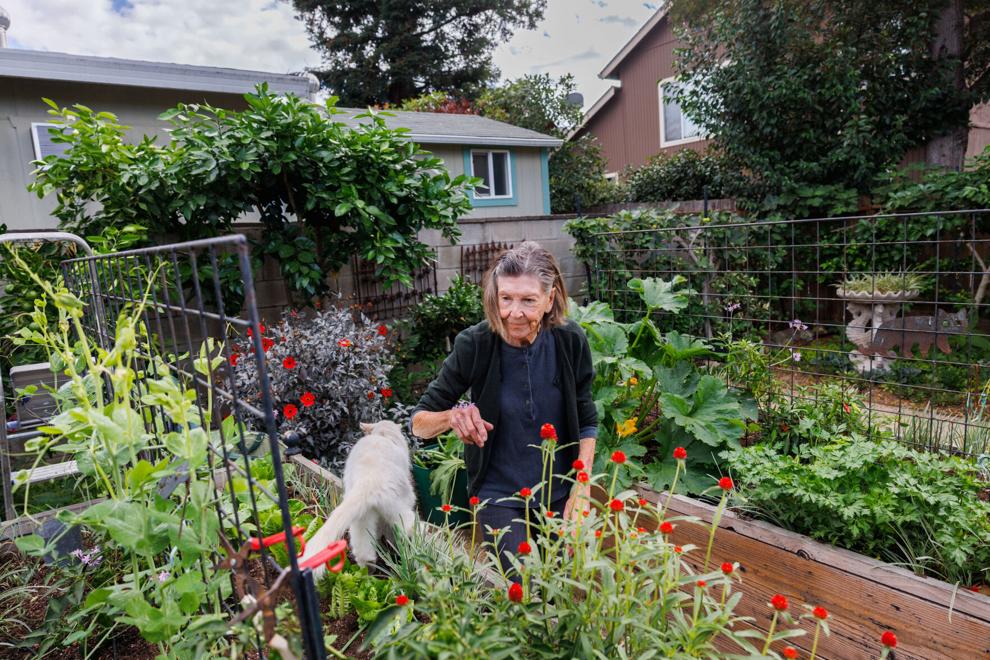 Mardi Schma 1