These small front landscaping ideas that are low maintenance deliver on curb appeal without requiring you to constantly weed, prune, or even water your front yard. Whether you are frequently away and don't want to come back to a dead outdoor space, or just want something that looks good without you having to do much to it, these looks are for you. 
These front yard ideas are specifically for smaller outdoor spaces. You don't need acres or a massive lawn to pack in a punch with some clever planting and hardscaping, as these beautifully-designed front yards prove.
Small front yard landscaping: a word on what landscaping includes
If you are considering your small front yard landscaping options and think that 'landscaping' and 'low-maintenance' are incompatible, have no fear: they are, much like when landscaping a backyard. Landscaping doesn't just mean labor-intensive hardscaping projects. Technically, landscaping includes plants, lawns, and pathways. In fact, it's perfectly possible to have a well-landscaped front yard with hardly any hardscaping at all. 
Small front yard landscaping ideas that are low maintenance
Plant-based front yard designs are not necessarily higher-maintenance than no-plant schemes, either. It's all about choosing the right type of planting for your climate – and the amount of work you're prepared to put into maintaining your front yard.
1. Go for a stepped design with grasses for a contemporary look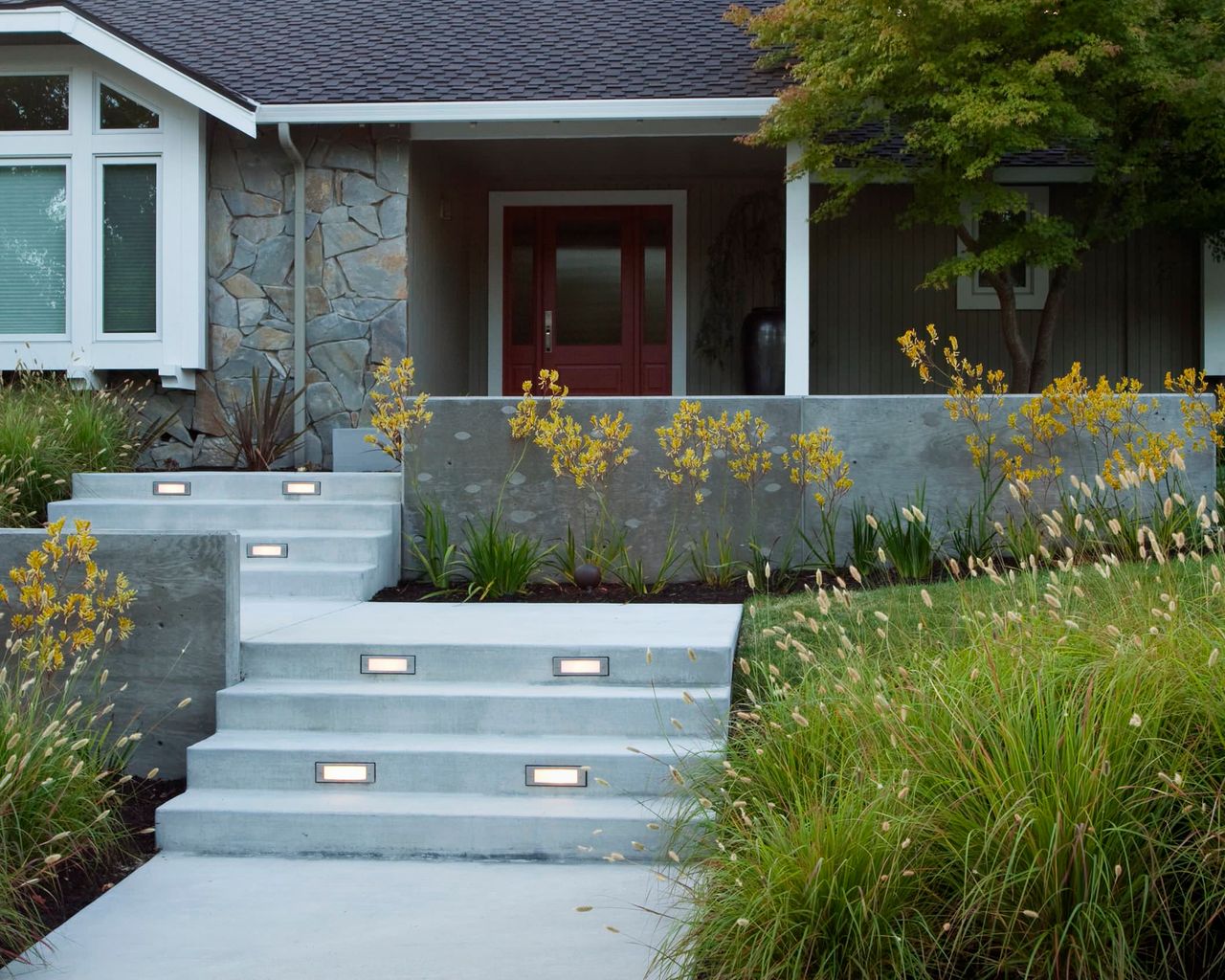 Ornamental grasses are the low-maintenance gardener's best friend. They are easy and fast to grow, look bushy and sumptuous even in the smallest of spaces, and they just have that modern, clean look that's popular at the moment. Pair them with whispy, tall plants like the African lily for a delicate and contemporary look. 
This impeccable small front yard was designed by Shades of Green Landscape Architecture. The grasses soften the contemporary concrete hardscaping, and we also really like the fact that the steps have built-in lighting for added drama in the evening.
2. Use symmetry to create a classic, timeless look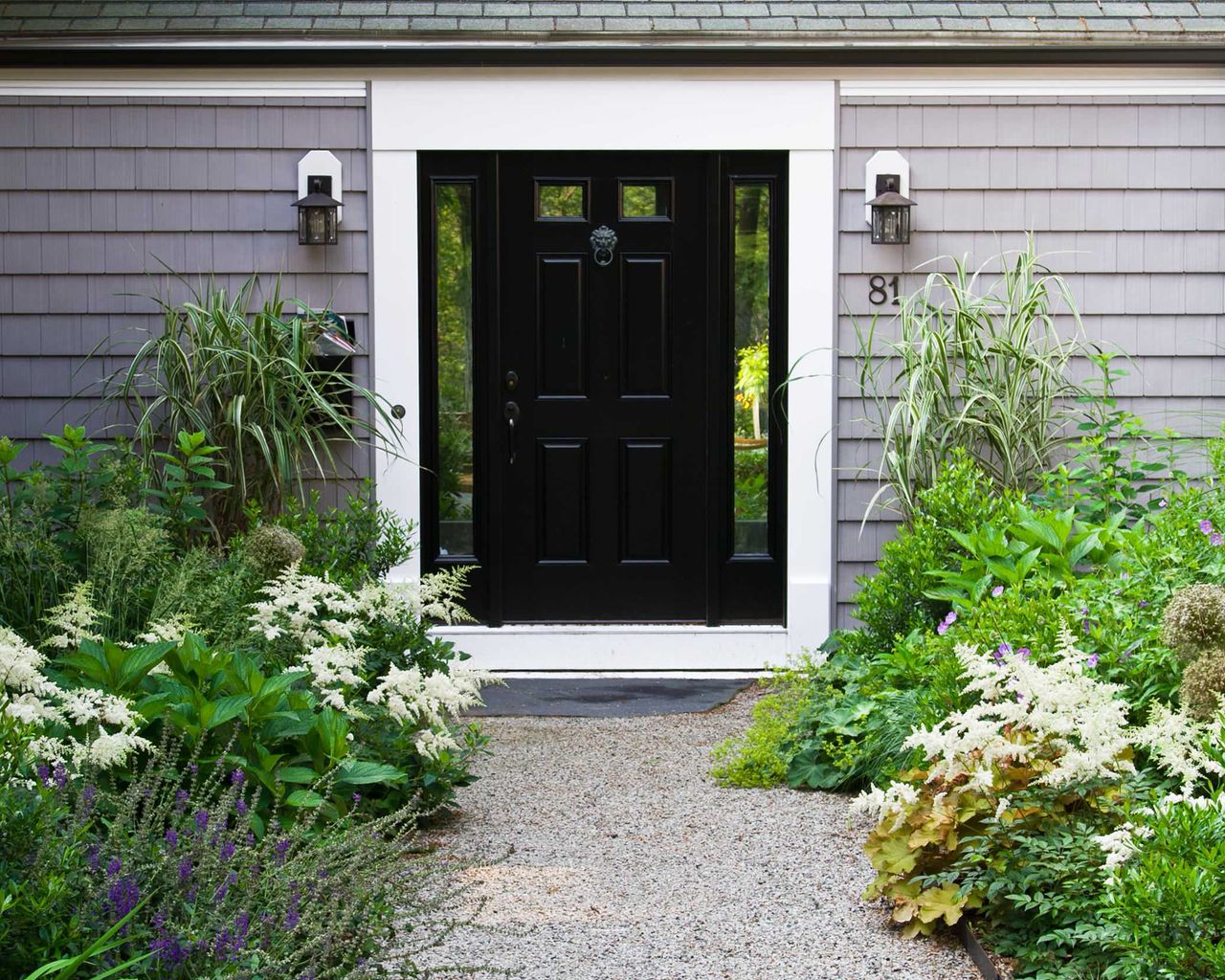 Symmetrical front yard landscaping will never go out of fashion, and it works particularly well for smaller front yards because it visually expands the space by creating a vista. Take inspiration from this beautiful front yard designed by Matthew Cunningham Landscape Design. A formal symmetrical layout is cleverly combined with relaxed, textured planting and a gravel path. It is both low-maintenance and smart-looking.  
Sticking to a simple color scheme with your planting will enhance symmetrical landscaping. Try all-white flowers for a crisp, formal look. 
3. Be inspired by mediterranean gardens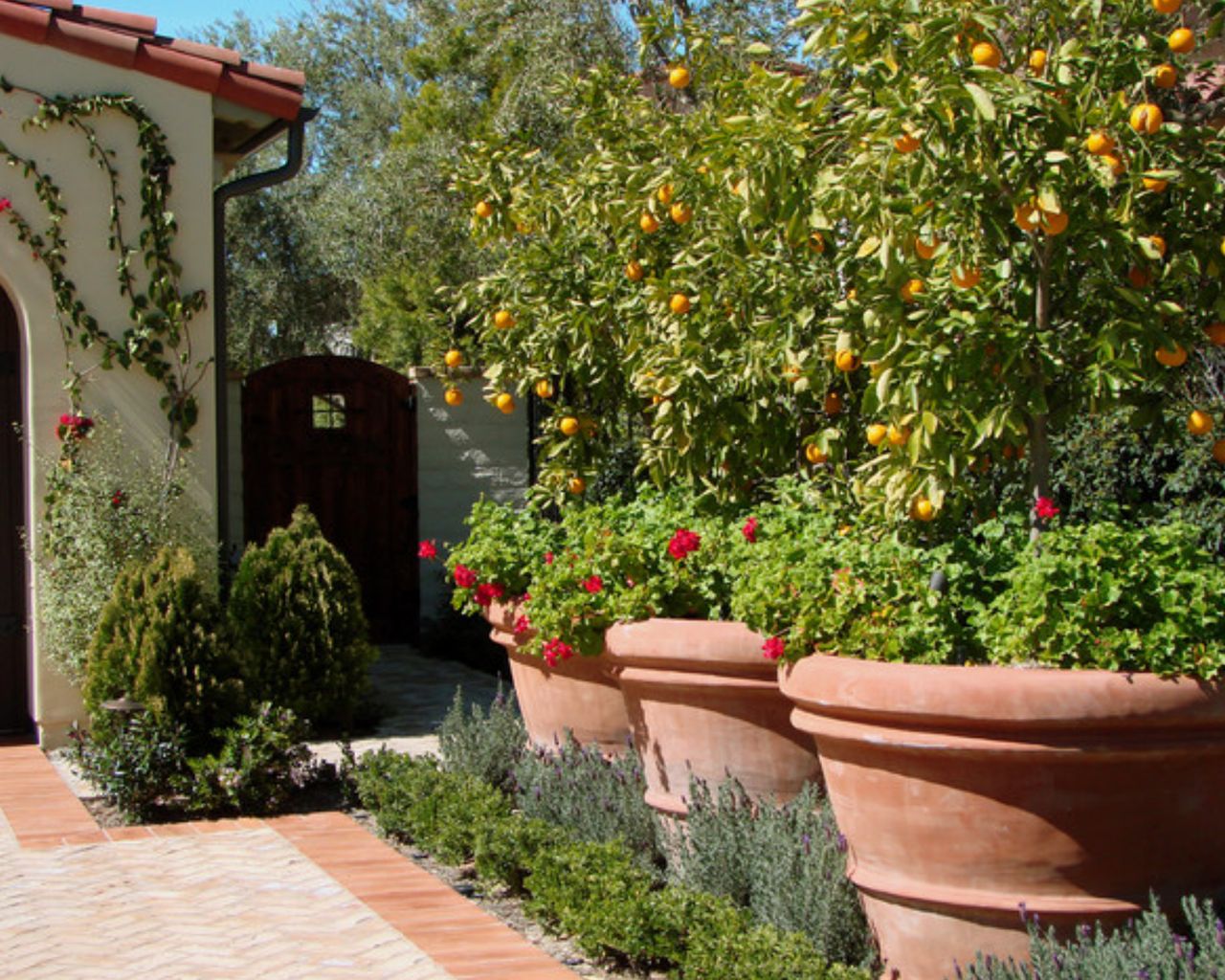 Mediterranean gardens are enjoying a huge revival, and the Mediterranean landscaping style can do wonders for smaller front yards. 
This stunning Californian front yard by AMS Landscape Design takes its cues from traditional Italian garden designs that use oversized terracotta pots for growing citrus trees. If your space is even smaller than this one, use just two pots on either side of your front door and pair them with terracotta tile for an authentic Mediterranean/Spanifornian landscaped look. 
This is very low-maintenance scheme – the tile will last many years and doesn't require any specialist cleaning or resealing, and citrus trees are easy to grow, so long as you have a mild to warm climate and give them big pots.
4. Landscape with succulents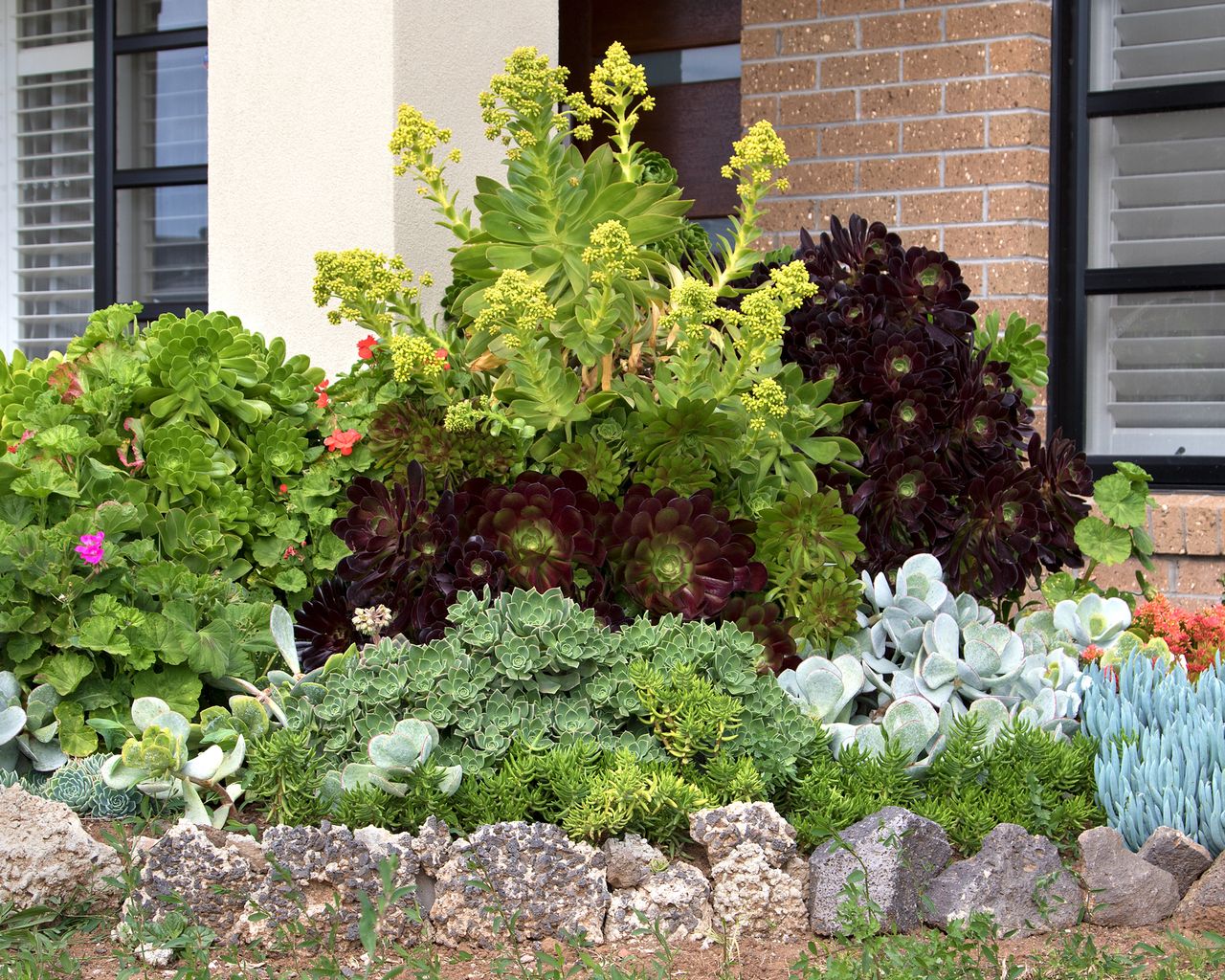 Succulents are the perfect low-maintenance plants for small front yards. They provide lots of sculptural texture and look great in a front yard bed, or in a container. Group succulents of varying heights, shapes, and colors right outside your home for the biggest impact. 
Succulents also play very well with concrete hardscaping, stone urns, and water features. Plant them in shallow concrete troughs right outside your front door for a sleek, contemporary effect. For even more drama, you can learn how to make a living wall out of succulents and transform your home exterior into a living art installation. 
5. A small front yard doesn't have to mean small plants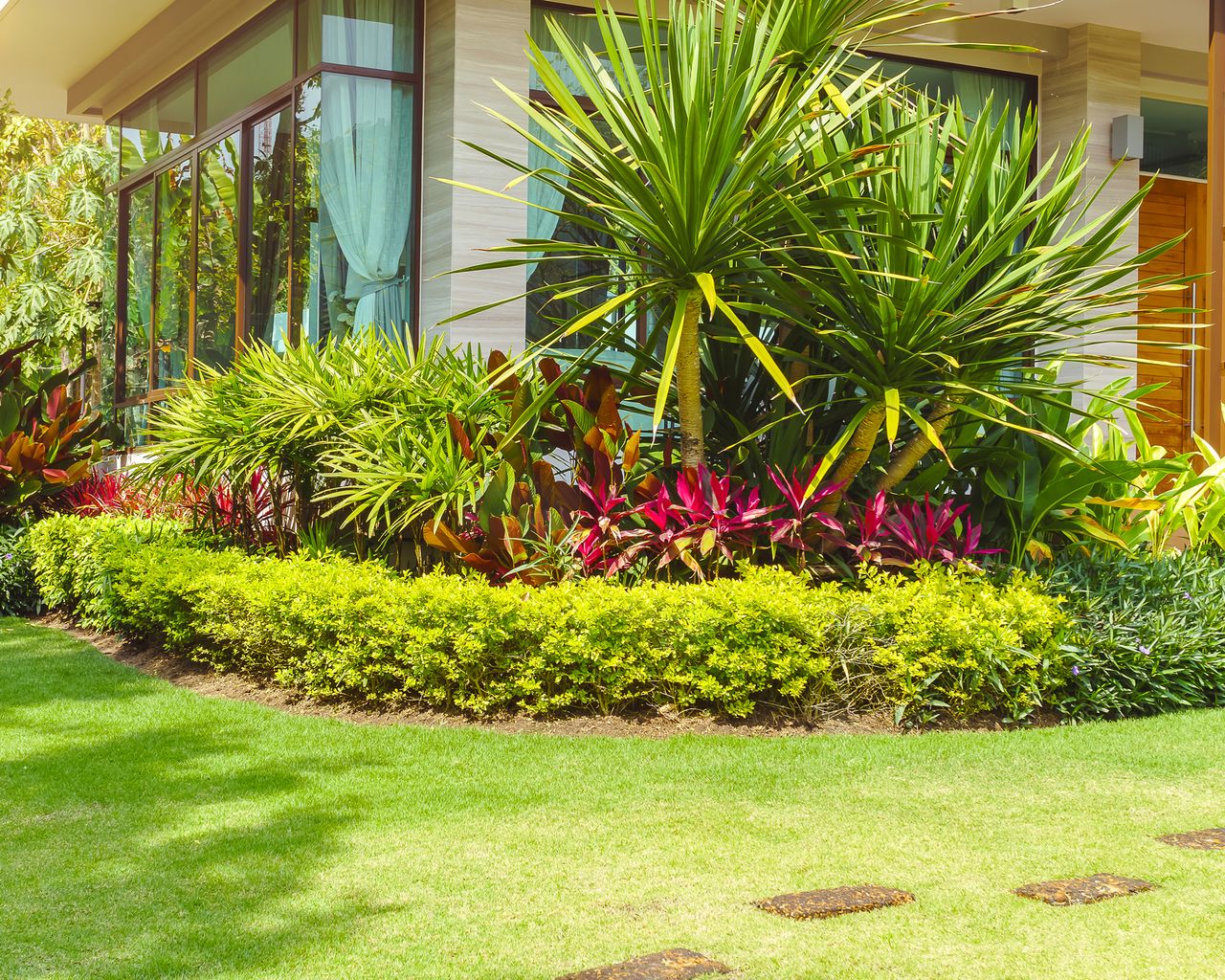 There is no rule that makes large, bold plants inappropriate for small front yards. In fact, the opposite is true: lots of small, low-growing plants will make your small front garden even smaller. Many small containers are also a high-maintenance option – you'll have to water them all the time. 
So, even if your front yard is really tiny, just go for it, taking inspiration from this glorious tropical front garden. Tall, spiky palm trees look especially appealing against the neatly trimmed lawn. Palms can also be grown in large containers, if that's your preference.
6. Add herbaceous borders to a small enclosed front yard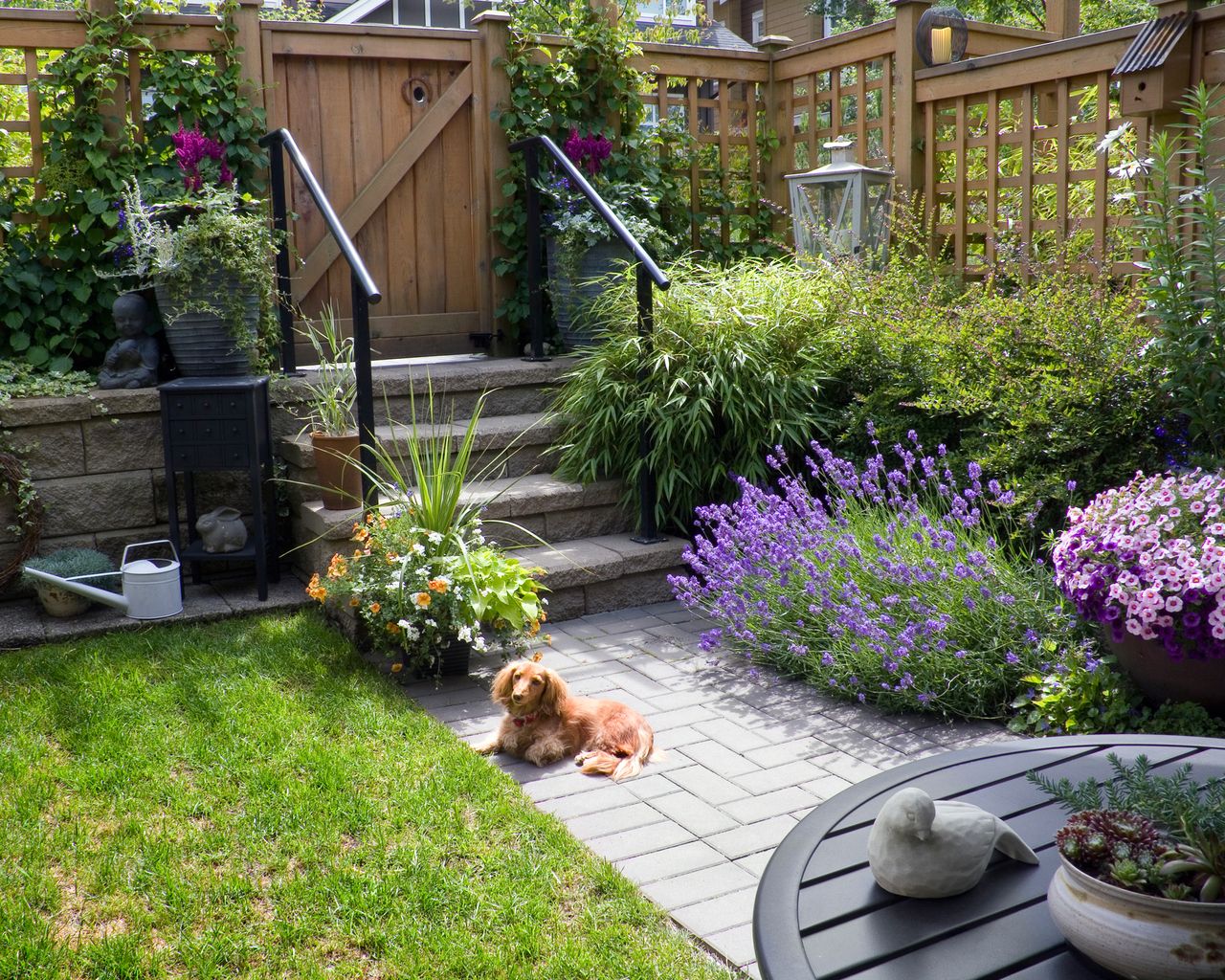 If you like the classic look with garden borders, then you should definitely add a few herbaceous perennials like lavender and rosemary. These drought-tolerant plants always create a beautiful contrast to grass and paths or driveways, making the overall landscaping softer. 
Lavender also looks good with almost any type of hardscaping in your yard, from bold concrete to traditional garden edging. 
7. Use garden edging to zone your front yard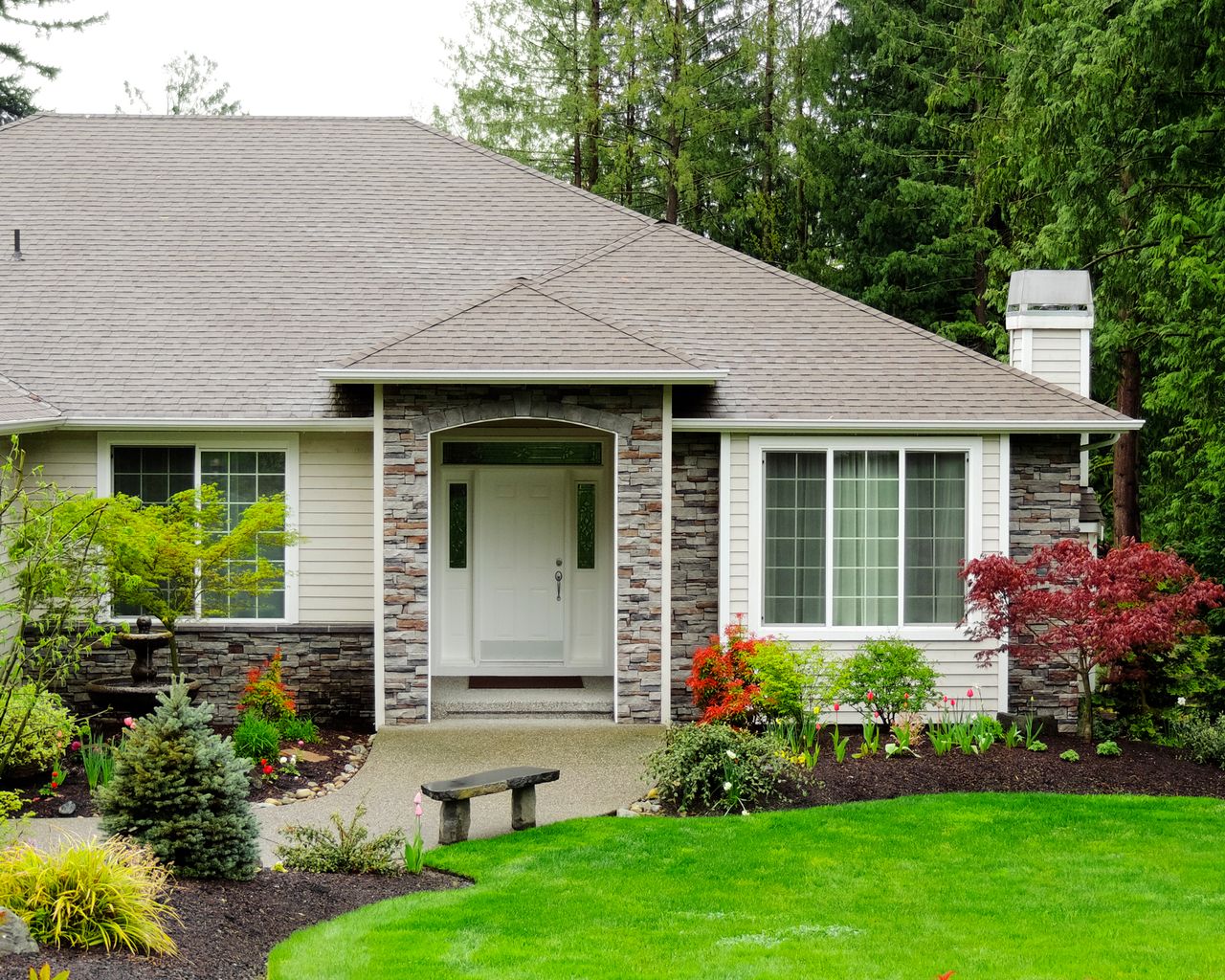 If you want to use most of the limited space available to you as a lawn, you can still get in some fun landscaping with plants if you create small zones dedicated to planting. Yard edging will help here: once it is in, it will require no maintenance and help keep your lawn nicely shaped and give your front yard great curves. 
Small front yards will benefit from invisible steel edging because too much brick or stone can look too bulky. 
8. Landscape with traditional cottage garden plants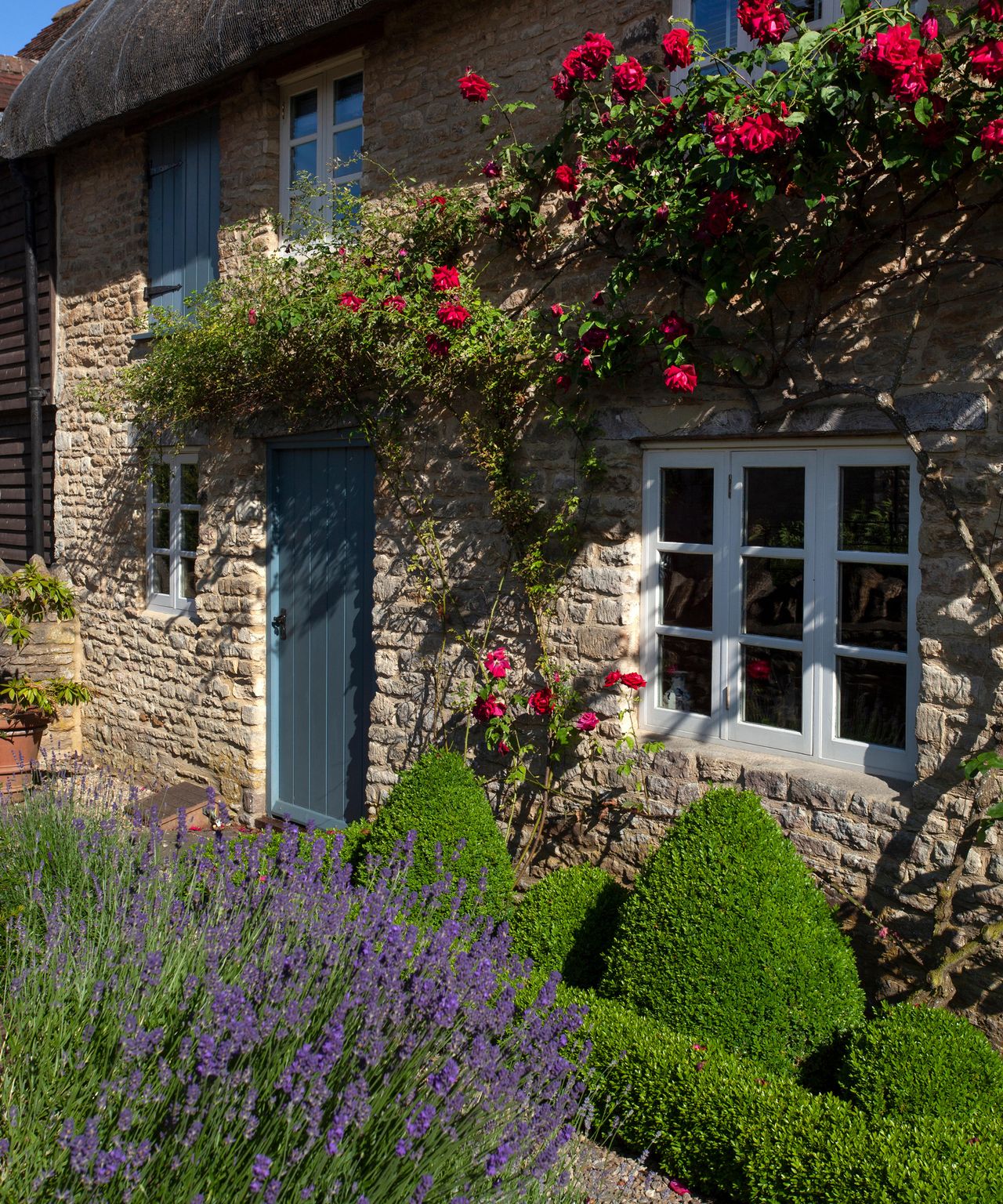 English cottage gardens tend to be on the smaller side, so cottage garden-style planting schemes are very easy to implement in small front yards. Go easy on the hard landscaping if you're going for this look – instead, lay a gravel path and let cottage garden plants, such as rose, lavender, and hedging, do the rest.  
Sculpted shrubs like box, juniper, or thuja will give your front yard a manicured look, but they're not really high-maintenance. An annual trim is the most these easy-going evergreens will need. 
9. Create a low-maintenance Japanese-inspired front yard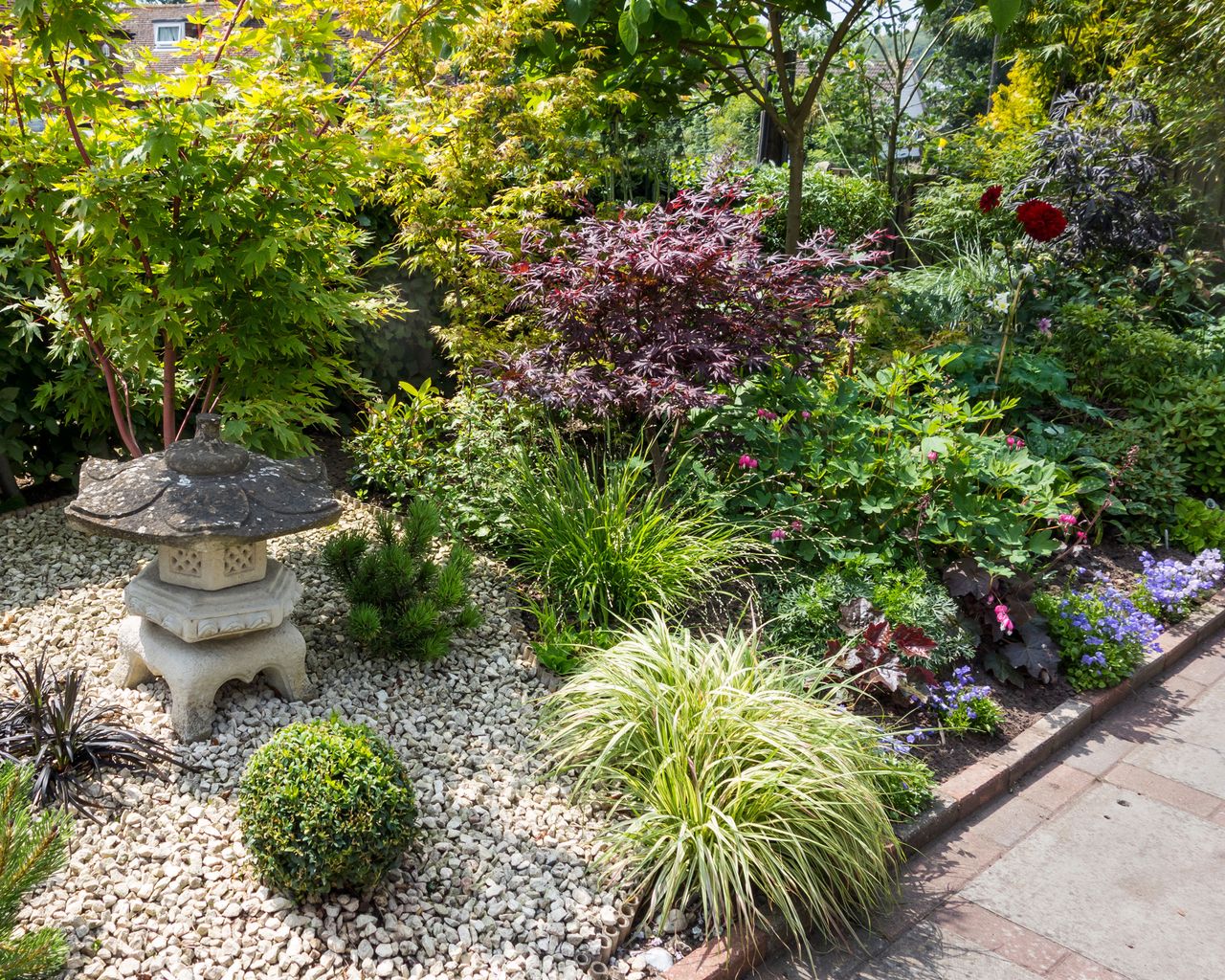 Japanese-inspired garden designs are perfect for small and simple front yards. The combination of gravel and slow-growing species of cedar and maple, grasses and moss, is very low-maintenance but looks amazing. These schemes don't require much space at all and can be achieved in even the tiniest front yards. Japanese plants also tend to require almost no pruning – less work for you. No room at all? You could just have a Japanese acer in a pot outside your front door – they are container-tolerant for many years.
Don't worry about raking the gravel, either – that's only required for Zen-style gardens that use very fine gravel and is entirely optional. You can use ordinary, gray gravel to create the same effect; no raking required. 
10. Use pavers to create a neat, low-maintenance look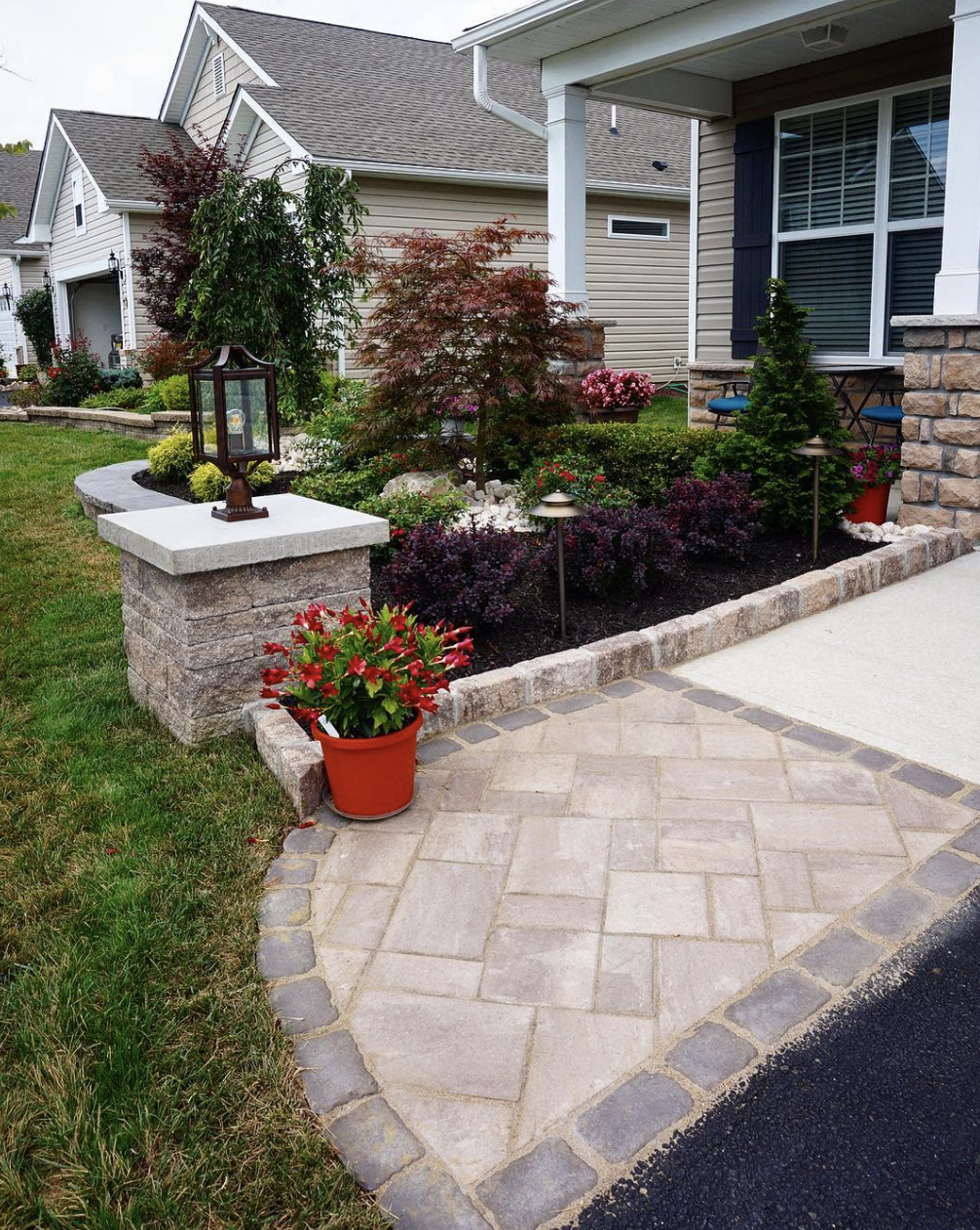 Paving ideas are not just for backyards – if you want a more formal, smarter look, then paved landscaping is the way. Especially if your front yard borders a communal lawn, as in this example by Creative Design Maintenance, stone pavers will help create a neat border for your front yard. Pavers are also really easy to clean and require virtually no maintenance apart from an annual clean with the best patio cleaner. 
11. Use a single tree to create a statement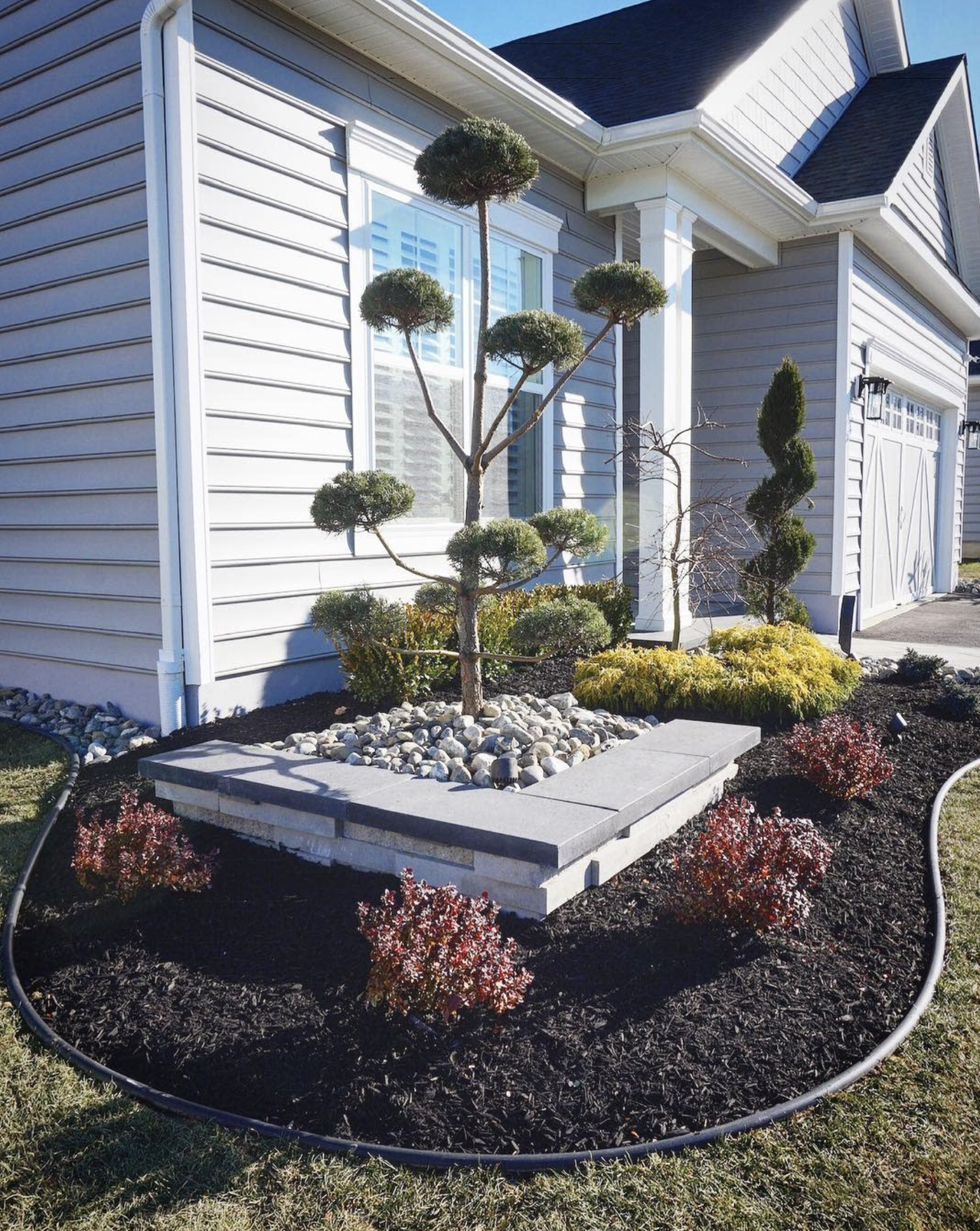 You don't need tons of plants to create interest in a small front yard. Often, a carefully positioned single tree is enough. The best small garden trees include Japanese acers and dwarf cherry trees, but any unusual-looking tree will make a statement, especially if it's accented with concrete landscaping or an oversized planter.
Another great option for small front yards is a full-sized garden tree. Provided you choose a species that doesn't require a huge plot of land to grow in, you can create a beautiful landscaped look with just the canopy of your tree. Consider an acacia or magnolia – both perfect trees for smaller outdoor spaces.
What can I do with a small front yard?
A small front yard doesn't have to be a limitation for your landscaping ambitions. However, Zachary Smith, Founder of San Francisco Bay Area landscaping company
Zachary Smith Arboriculture, advises to start with small ideas and build up, explaining that in his experience, 'people tend to try to do too much, and with smaller spaces, simpler can be better.' He recommends starting with 'decorative gravel and interesting succulents. When some fancy agaves and cactus-like plants are installed in a bed of unique gravel or stones, it can be a surprisingly impressive look, with very very low maintenance requirements.' 
Another option is 'to use a ground cover cotoneaster, or creeping juniper ground cover around several large and unique boulders.' Rocks, obviously, don't require any maintenance whatsoever but look great in most front yards, helping you create a look that's completely individual.
How do I landscape a small front yard so that it's low maintenance?
Smith has a very important top tip for keeping small front yards low maintenance: 'It's most important to remember that simpler is better, and the lower maintenance requires less foot traffic in the landscape which will reduce compaction and wear and tear on small plants.' 
Basically, this means that a low-maintenance landscape design will have a hardwearing walkway and plants either on the sides or on a dedicated plot that isn't walked on. You also may choose to reconsider that lawn – lawns just aren't low-maintenance, ever, so you may choose to replace yours with extra plants or a rockery. 
Well-mulched borders or xeriscaped front yards are also extremely low maintenance. Xeriscaping is specifically aimed at making your front yard drought-tolerant, by choosing plants that don't require much watering and surrounding them with gravel for added water retention. You don't have to live in an arid climate to enjoy this type of landscaping, either, and it looks very good with both traditional and contemporary home exteriors.