If you're one for cooking up a storm and using every work surface going, you'll know how tough it can be to stay organized. It may come as no surprise that maxing out on the most efficient kitchen island storage ideas will lead to a more functional space, to one that is perfectly tidy, at least most of the time!
There's no denying that kitchen islands are desirable features and if you're fortunate enough to have one, you should be making the best use of space. Most are equipped with open shelving and drawers as standard, but there is still so much more that can be gleamed from these multifunctional focal points than meets the eye. Let us show you how.
How to max out your kitchen island storage
From utilizing the dead space under cabinets with DIY hooks to hang mugs or utensils; to incorporating a plate rack at either end; or a discreet and petite drawer for spice jars, there's always more nifty kitchen storage ideas to squeeze in additional space for go-to essentials. 
Melissa Klink, head of design, Harvey Jones, says: 'An island can be the answer for those who are lacking sufficient storage space within their kitchen. Whether it be an integrated bin or spice racks that previously, was only on the wishlist given the space available, then a kitchen island may be a way of allowing for all these cabinetry desires.'
Get the best out of your island with expert recommended storage add-ons, and elevate the hub of your home into an organized gathering spot of calm amongst the slice-and-dice chaos. 
1. Use a multi-functioning cabinet organizer to maximize storage space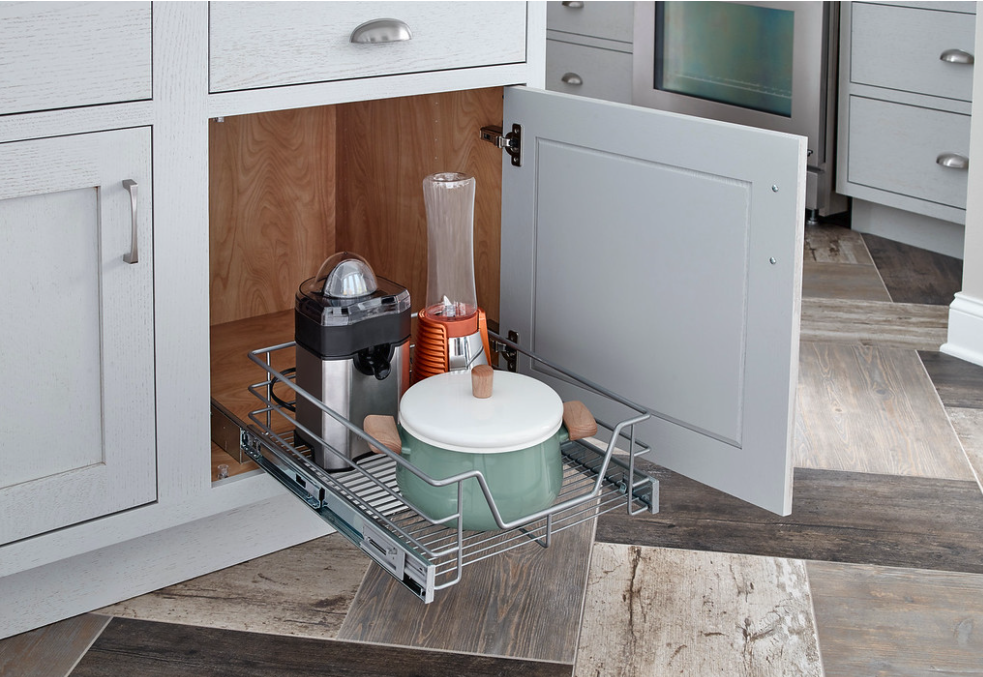 Utilize every inch of storage space potential in your island with a savvy kitchen cabinet organization idea that makes items squirreled away at the back easily accessible. Choose an organizer with features that include pullout baskets, a spice rack, and even a trash bin, to turn your island into a multifunctioning hub of efficiency, whilst freeing up precious work and storage space elsewhere. 
Professional organizer, Barbara Reich, founder of Life Organized, advises using ClosetMaid cabinet organizers in cabinets under the island to maximize storage space.
2. Only keep what you need and use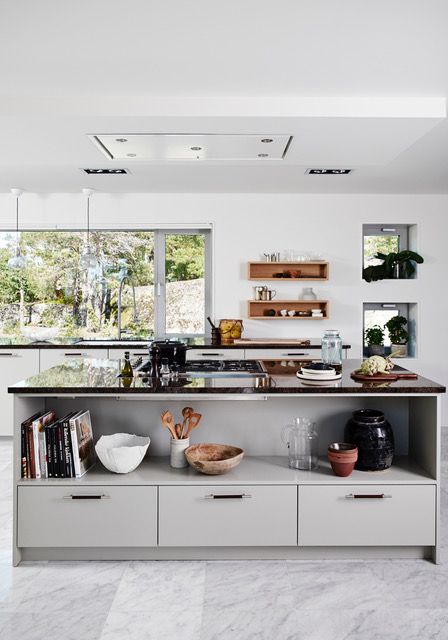 Reich continues: 'Get rid of novelty appliances. Do you really need that snow-cone maker, the chocolate fountain, or the bread maker? These novelty appliances take up a lot of space. If you don't use them, donate them to someone who will.' Be honest and decisive when it comes to choosing the best kitchen appliances for your space and lifestyle. 
3. Combine deep shelving and pull-put cabinets to optimize storage efficiency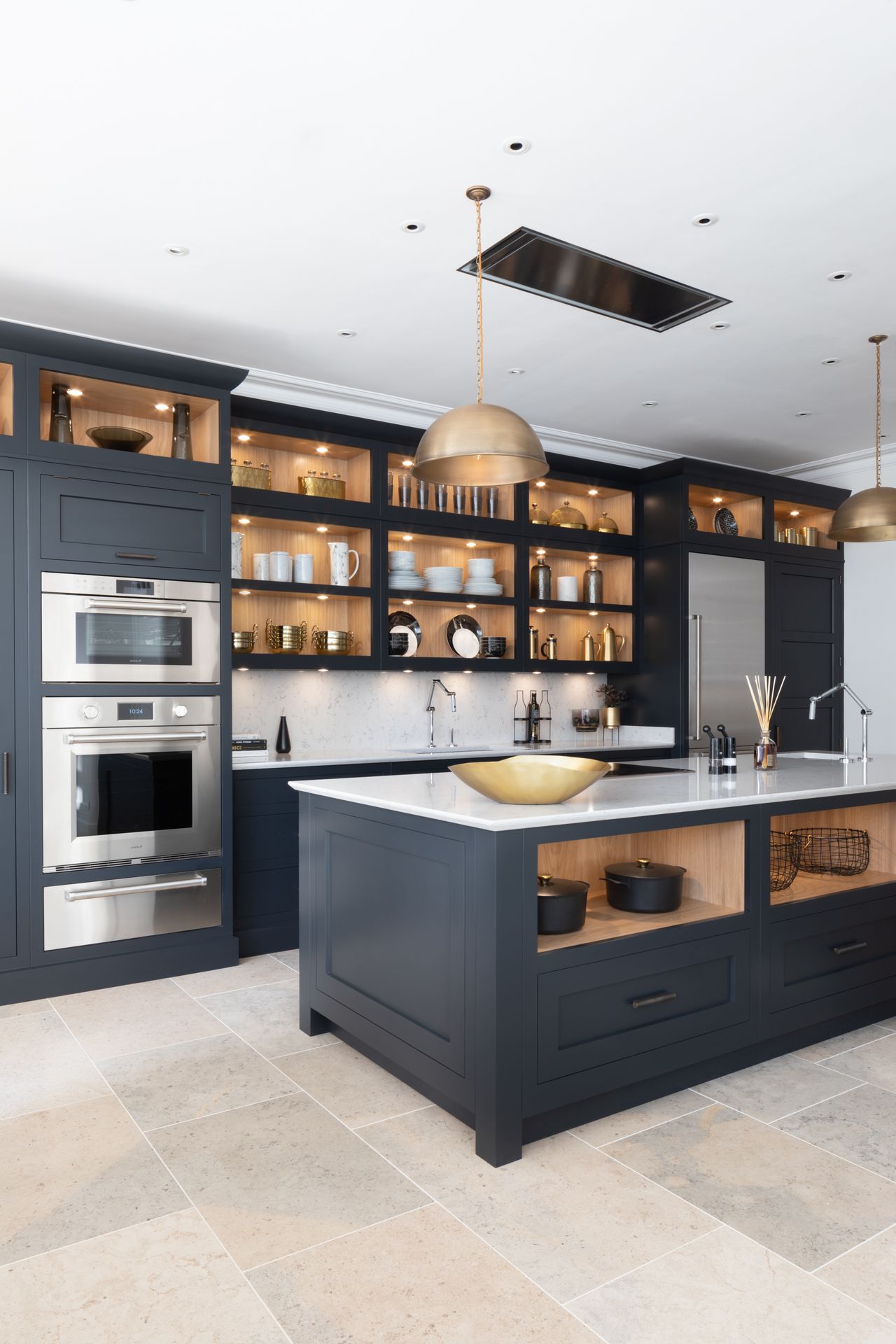 Consider what you want to store in your island, and which types of kitchen cabinet designs are best suited for these items.
'A mix of deep shelving behind closed cabinetry and pull-out units is the best way to optimise storage in an island counter. In terms of space saving with cabinetry, the rule is pull-out. Fit deep cabinetry and pull-out drawers or a cage system for a multi-layered, discrete and effective storage system,' advises, Tom Howley, design director, Tom Howley Kitchens. 
Graeme Smith, head of retail and commercial design at Life Kitchens agrees: 'Pull-out and pull down cupboard designs are highly efficient. The pull-out is great for tidying away herbs and condiments, whilst the pull down offers greater accessibility for those with high set cabinetry, so that you don't have to over stretch or grab a stool to access what you need.'
4. Establish the main use of your island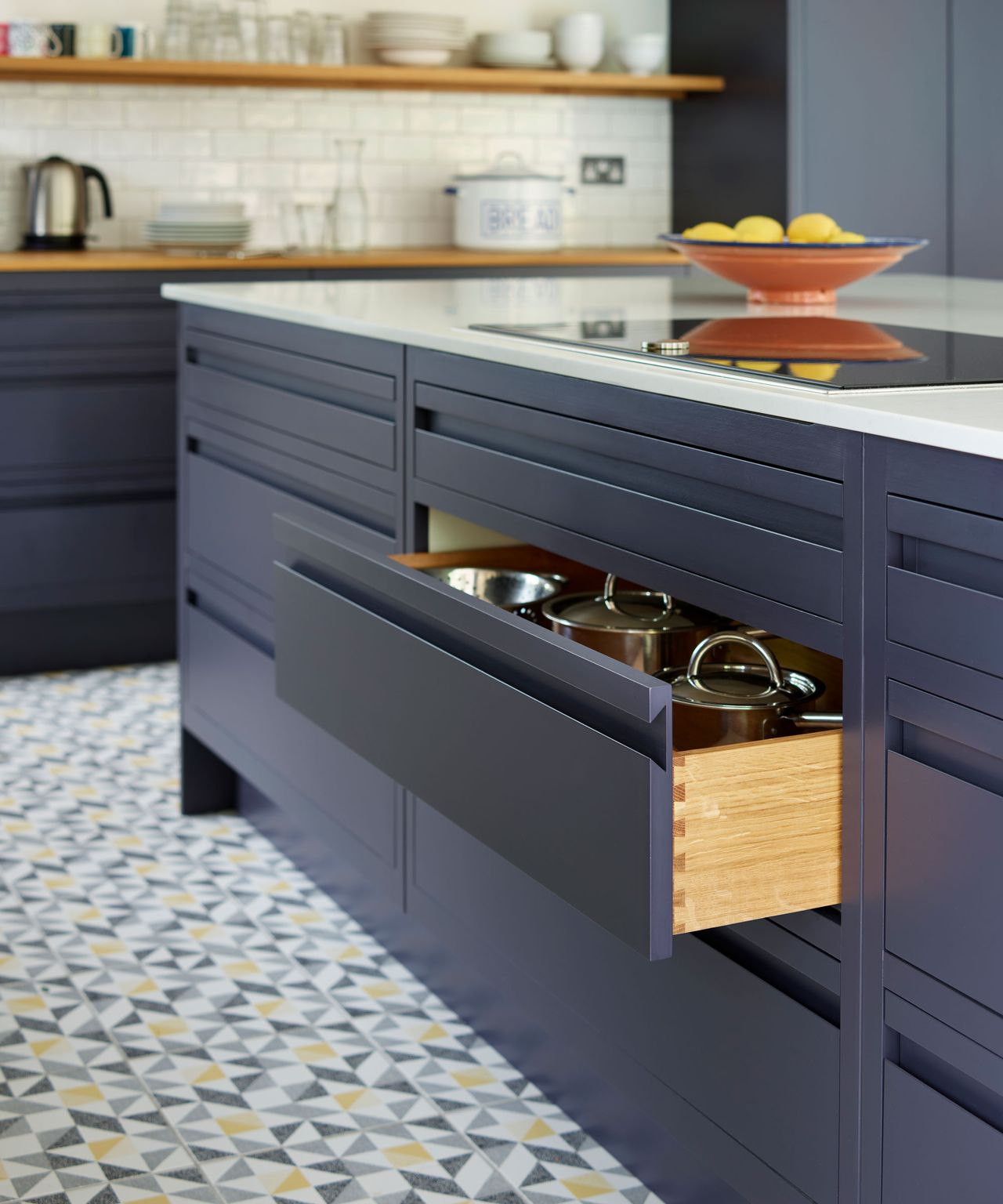 When planning a kitchen island, figuring out exactly why you need it will help get your storage requirements right. Knowing whether your island is purely for extra cooking space or mainly for entertaining will affect how you organize it in relation to the rest of your kitchen space. 
Matt Baker, kitchen designer, Harvey Jones, advises: 'If you're planning to use your island mainly for storage, avoid incorporating a sink or socket tower, as these features take up a lot of cabinet space. A gorgeous flush-fitted indiction hob, on the other hand, will add a very desirable level of detail, particularly when paired with a built-in extractor. For the same reason, built-in pan drawers and shelves are a must to make the most of the space.'
5. Keep surfaces uncluttered for a tidy and mindful aesthetic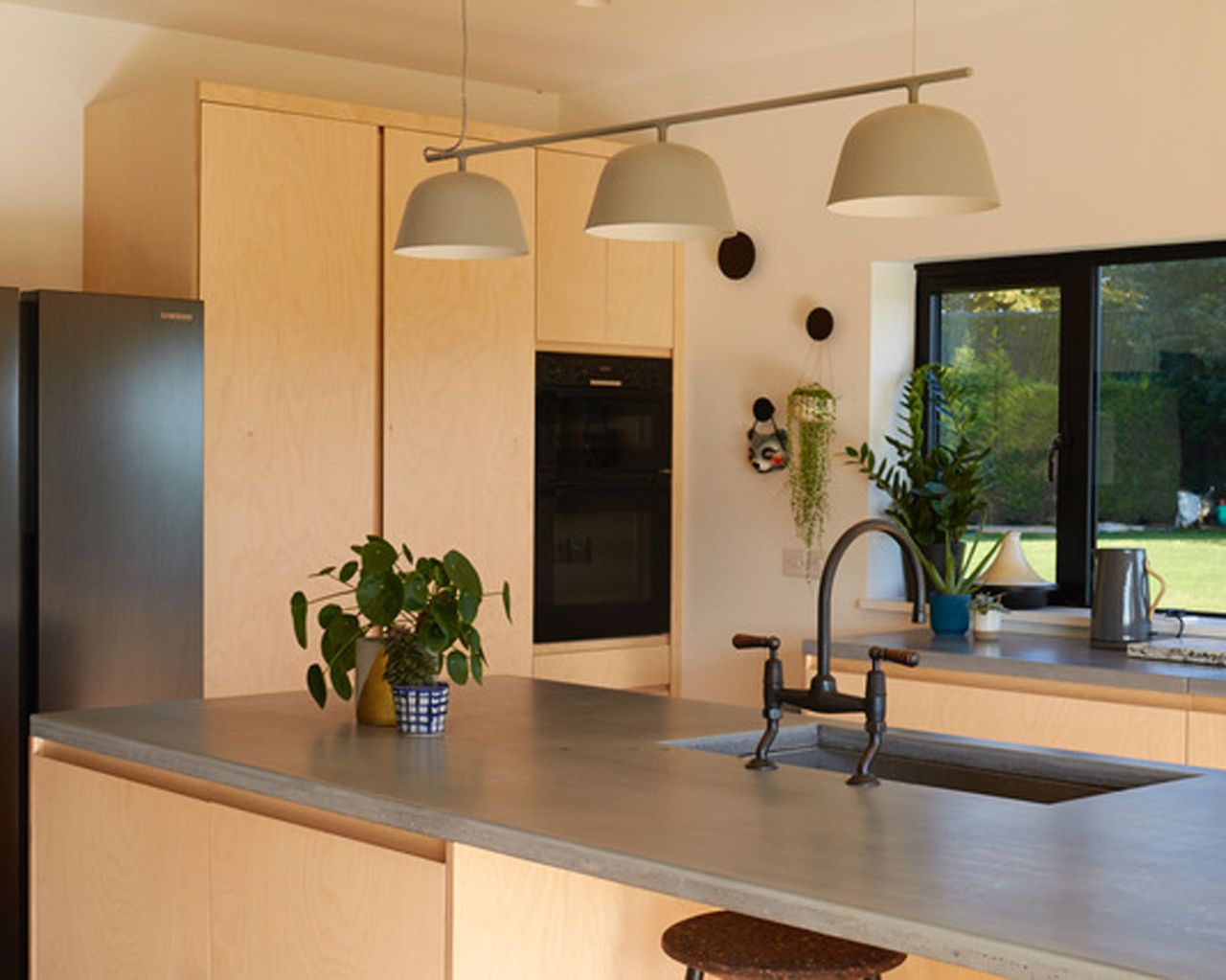 Nobody likes clutter on the counter – it looks messy, and has the opposite of a calming effect. And who wants to start everyday with a cup of coffee and instant stress? No thanks! But thankfully, a well organized island means that you can organize your kitchen countertops and keep essentials neatly tidy and hidden away, but still to hand, whilst fulfilling that goal Japandi style aesthetic. 
'Put the hob on the island and not the sink, and use a downdraft extractor to eliminate the need for obtrusive overhead extractors which could spoil the overall aesthetic. Include a hot boiling tap/drinking tap for speed and to keep surfaces uncluttered, and include pan drawers which offer a lot of storage and are easy to use. Also make sure there is an integrated bin in an open-plan space to keep it looking tidy,' says Keith Myers, The Myers Touch.
6. Incorporate a rack at either end to store books or platters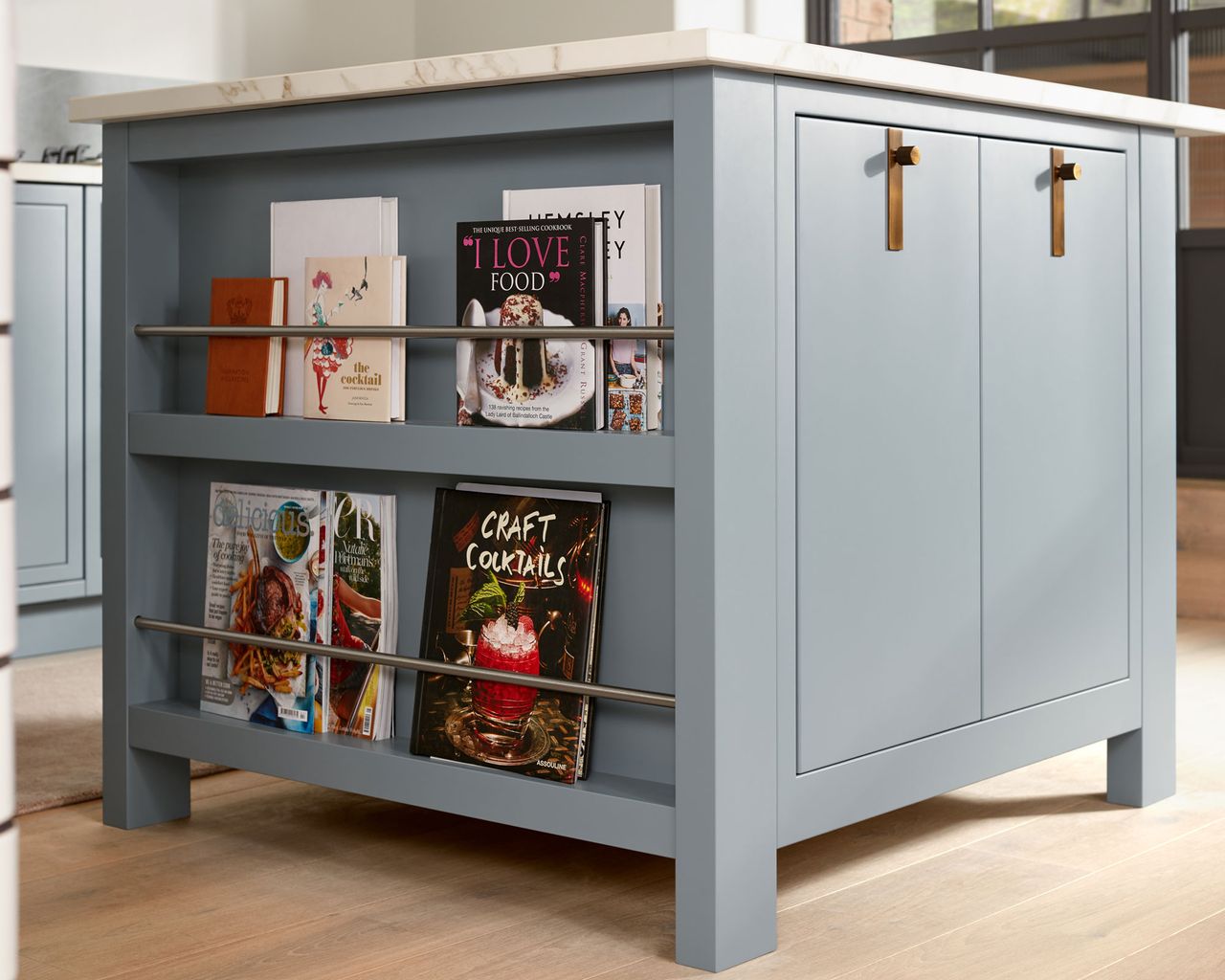 Put either end of your island to good use with built-in racks for narrower items such as favorite platters, chopping boards, or go-to cookbooks. Not only is this a handy storage solution and nifty way to organize a kitchen uniquely, but it also makes a lovely display to give your island a lift of color, texture and interest. 
Graeme Smith, head of retail and commercial design at Life Kitchens comments: 'If space isn't an issue a kitchen island is a great way to get more out of your kitchen. Entirely functional, islands are great at offering alternative storage opportunities, the ends can be used to store and display cookbooks whilst drawers and typical cabinetry can make the body of the island. It also provides often much needed additional work surface area, this can be used for preparation, entertaining or dining.'
7. Create a charming display with open storage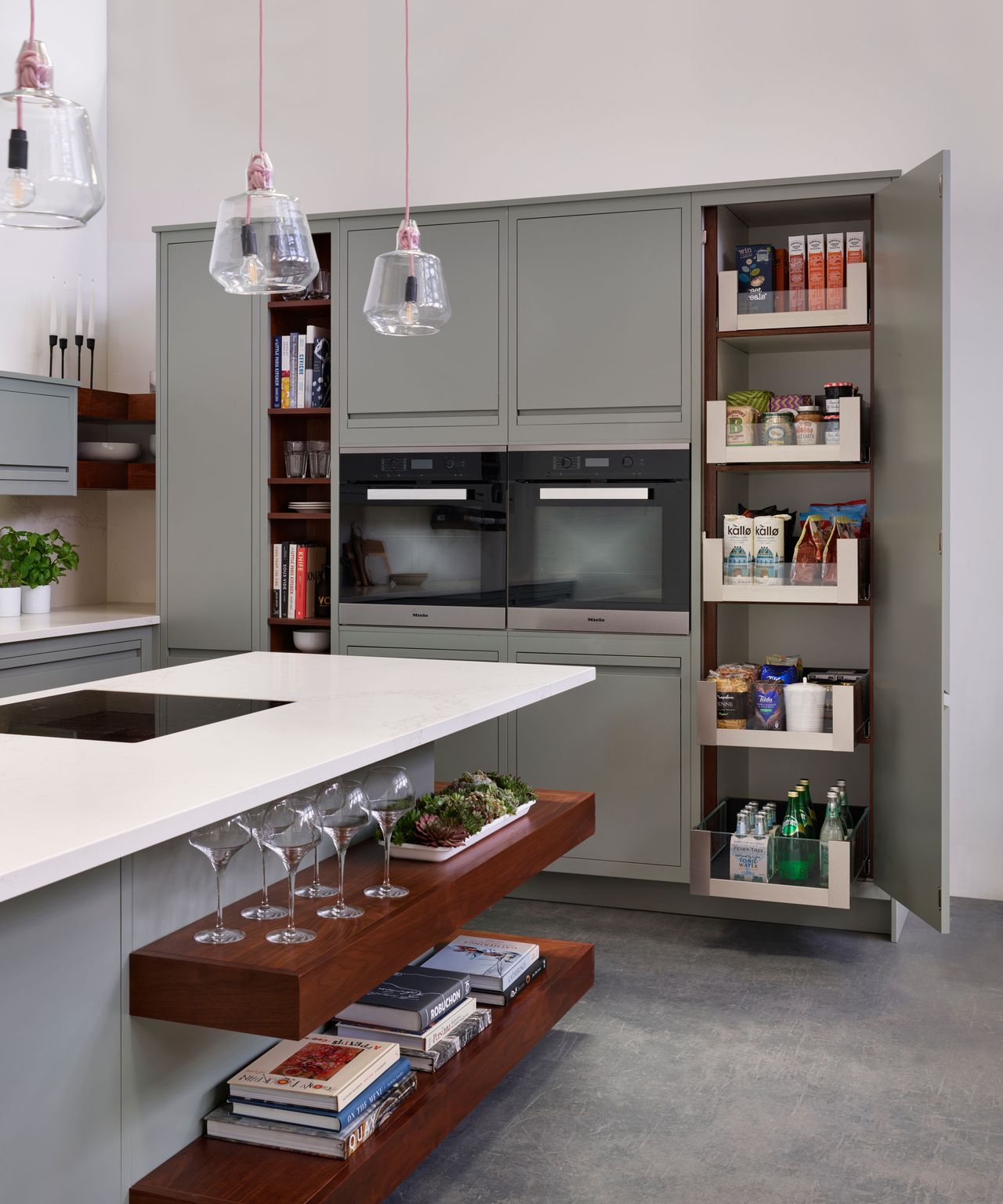 Don't feel like you have to hide everything away in out-of-sight, out-of-mind fashion to achieve an organized island space. For the non-minimalists amongst us, sometimes it's rather charming to make a show of beautiful wooden boards, reactive glaze-ware crockery and artisanal glassware etc. Having a few, thoughtfully curated bits and bobs on show gives an island homely character and personality. Take action with the phrase 'celebrate what you've got,' and display everything from potted herbs to the pre-mentioned lovelies, with open storage and kitchen shelving ideas. Install a few hooks on the underside overhang of a counter to happily dangle mugs or prized cooking utensils. 
Howard Miller, of H. Miller Bros, comments: 'Sometimes the understory of an island incorporates open storage so that they allow light and views through and around them. This all helps an island feel more delicate and elegant… and the room less taken up by island.'
8. Turn your island into a digital hotspot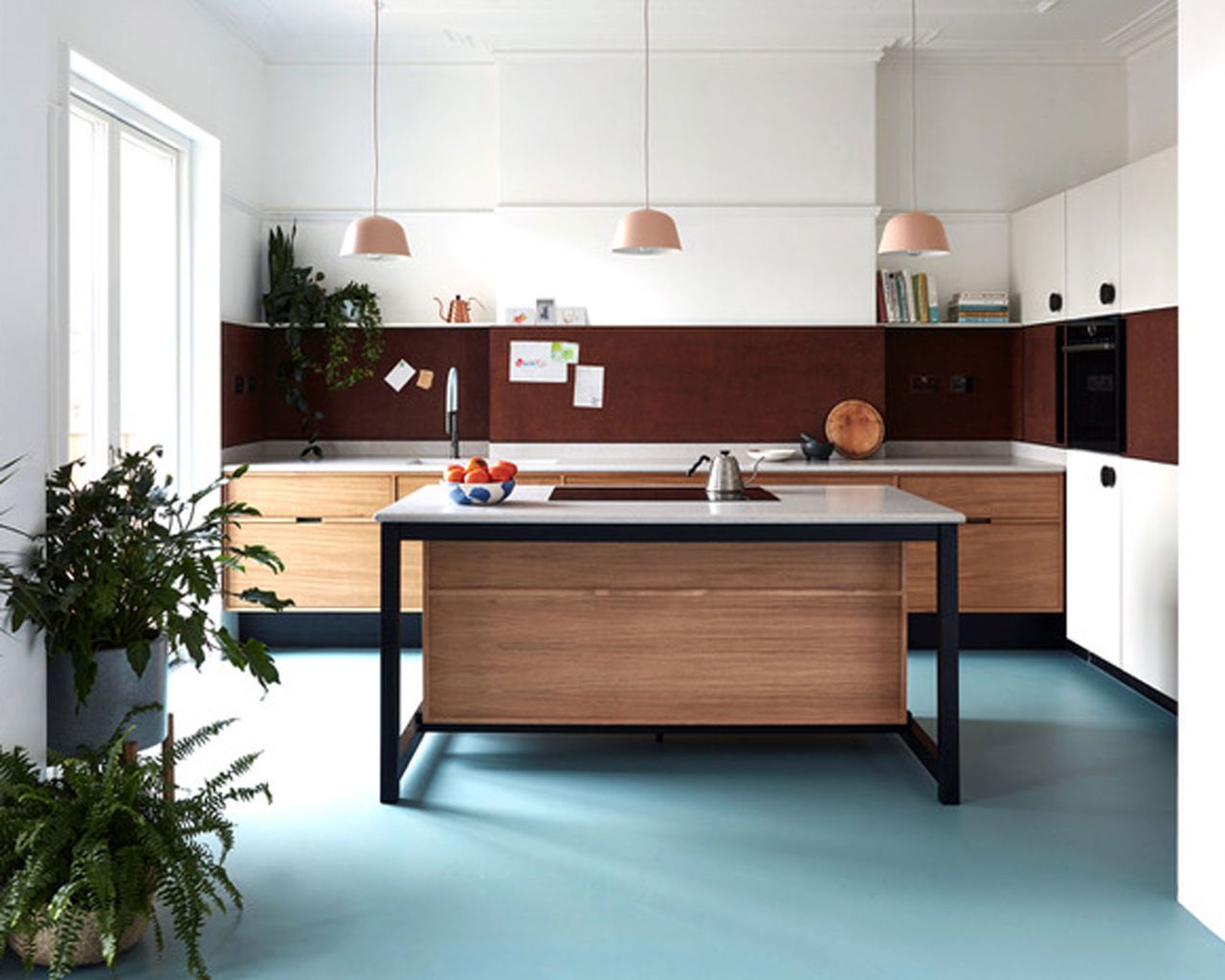 Miller continues, 'Technology is increasingly being used at the kitchen island such as referring to a recipe on an iPad or using a smart speaker. We have developed a drawer for charging phones which also doubles as a handy place to park all those things you normally can't remember where you left them.'
9.  Incorporate a wine fridge on a sociable island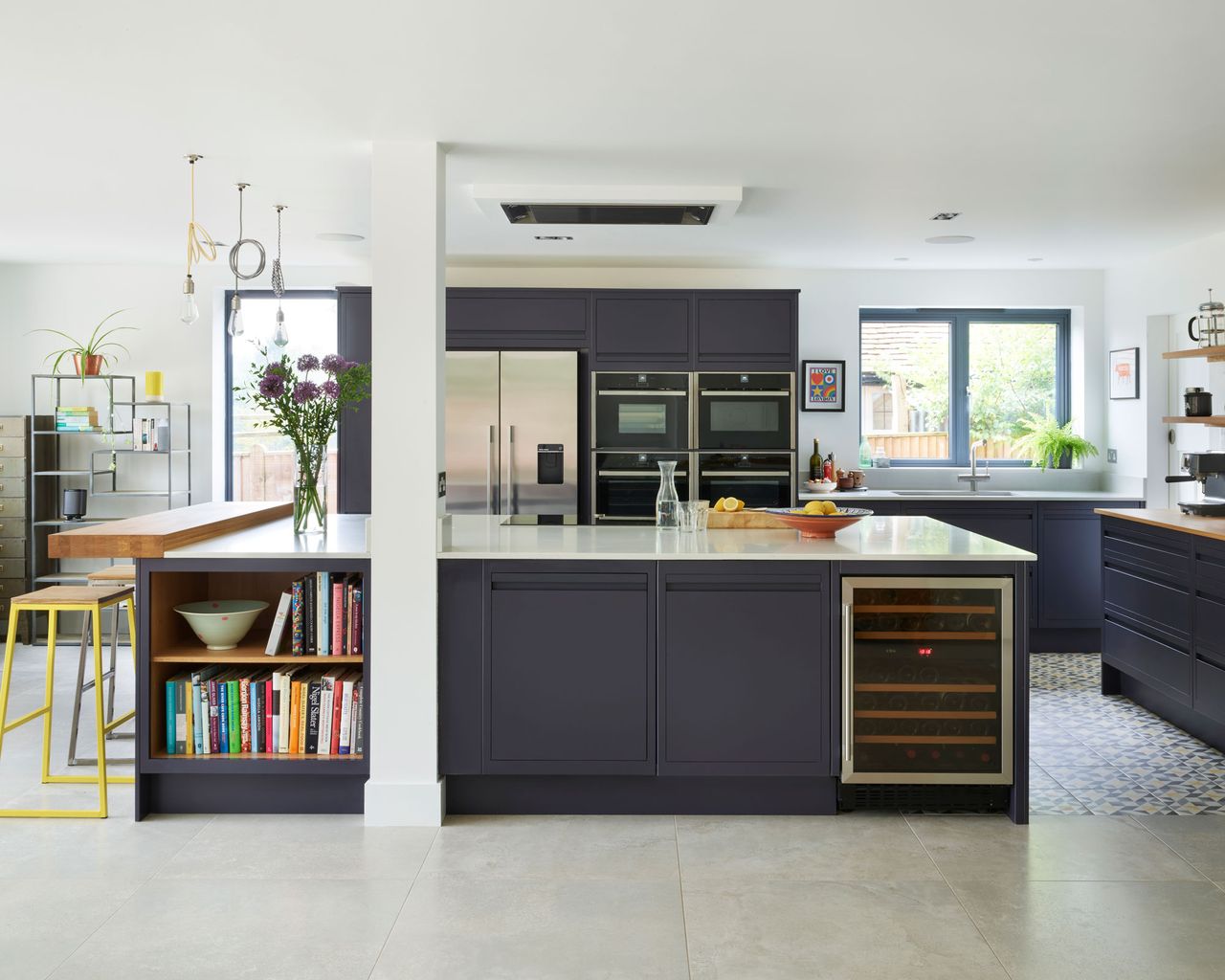 Kitchen islands are watering holes (quite literally) for favorite faces to gather around. From relaxed brunches, to giggle-driven cocktail hours, if you enjoy entertaining and hosting, it's a no-brainer to incorporate a wine cooler into the island mix. What better spot to store tasty tipples in pride of place?
'Wine not' make a statement island home bar with contrasting textures and metallic details? 'Consumers are moving away from the obvious color palette of grays, blacks and beige and instead introducing rich, deep color to provide a pop of contrast that creates a statement, but still aligns with the desired industrial aesthetic,' comments Alex Main, director of The Main Company, on the kitchen trends for 2022.
10. Organize island drawers to aid functionality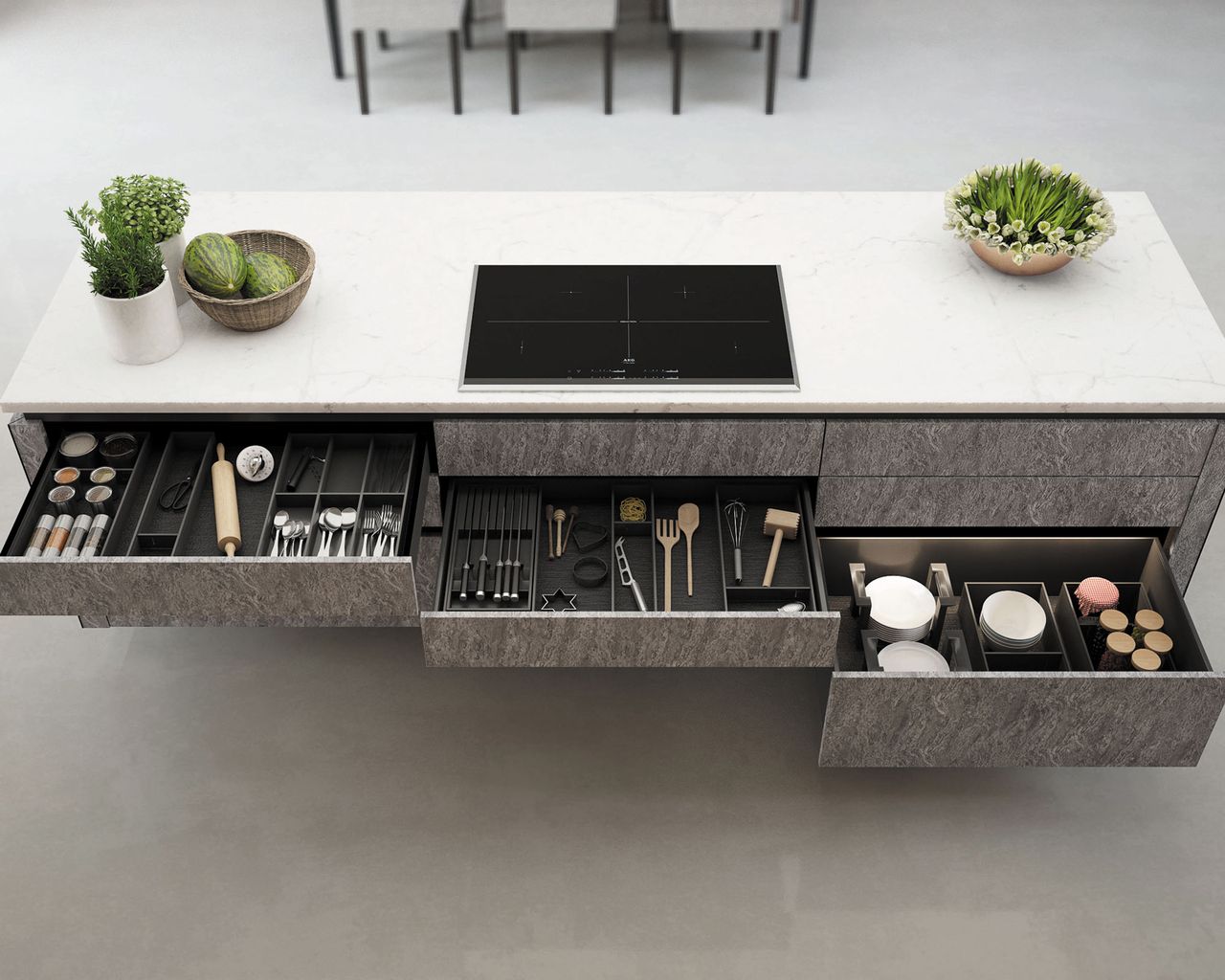 Master how to organize kitchen drawers for a total de-clutter that will have a lasting effect.
'Drawers are an essential part of kitchen design, as they provide us with multiple storage options – whether deep or shallow. Deeper drawers allow you to store pots and pans and the addition of shallow drawers on the top of them are great for utilizing further space, perfect for organizing kitchen utensils like spatulas, corkscrews and the like,' advises, Graeme Smith, head of retail and commercial design at Life Kitchens.
Barbara Reich, founder of Life Organized, advises: 'Eliminate duplicates of cooking tools. No one needs four spatulas and three graters. When you have fewer things in your drawers, you'll see everything more clearly and feel calmer.' She continues: 'Group like things together in drawers, so you know what you have. Use drawer inserts to corral items. This ensures that like items stay together in the drawer.'
11. Upgrade your island with add-ons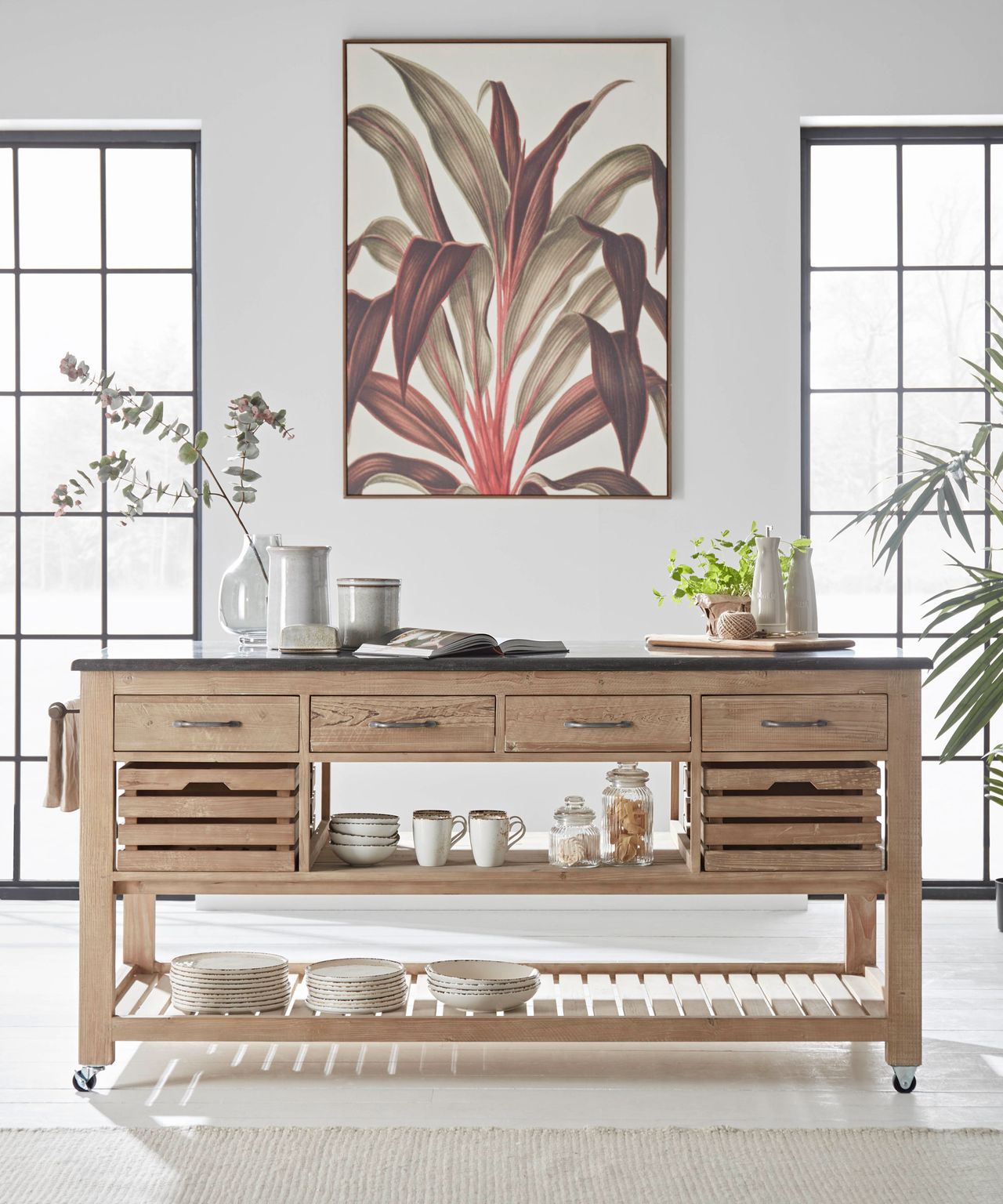 Don't be afraid to upgrade your storage solutions with DIY kitchen island ideas that will transform your space. Simple add-ons such as baskets and crates; wine racks; hooks, and drawer and cabinet organizers can boost up the storage potential in a jiffy. 
If your island has empty space underneath, consider a cart or trolley on wheels that can be easily rolled-out to create extra workspace for food prep as and if required. Look out for a multi-level trolley that includes storage for dry goods and kitchen linens. Have you even considered integrating a pet bed into the mix?
How do I add storage to my kitchen island?
Use drawer and cabinet organizers to group similar items in one place, and use pullout features like baskets, racks and cabinets to access, hidden away spots at the back. 
Budget-friendly, DIY add-ons include hooks and rails under cabinets and at island ends for hanging mugs, utensils and kitchen linens.
What should I store in a kitchen island?
All manner of kitchen items can be kept on or in an island but as mentioned, what those items are exactly largely depends on the island's main function. If your hob is there, keep cooking utensils close by. If it's mainly a cocktail and/or coffee station, display cups and your fanciest glassware creatively. 
Simon Bodsworth, managing director, Daval, comments that you can store more than utensils and cookery books in your island but that it doesn't have to overwhelm the unit: 'Designs that benefit from cleverly designed doors, like bi-fold and coplanar sliding, are perfect for hiding away large and small appliances, ensuring the operating system fits the space and runs ergonomically. Not only minimising noise pollution, the 'right door' will create a reactive environment which is ideal for entertaining and open plan environments. Small mezzanine racks provide additional storage space in cupboards with pull-out rack systems, deep drawers and combination shelving also standing firm as a way to create one complete area which caters to multiple needs.'