Coastal decor ideas are underpinned by certain style fundamentals, so whether your look is East Coast or West, Pacific or Mediterranean, there are key design principles to follow. 
It starts with the color palette, based in seascape tones of blues and grays, crisp whites and creamy neutrals. Added to that are the accent colors, from nautical navy and red, to sandy yellow and tints of seaglass green.
Next comes texture, channelling maritime ropes and fishing baskets, seagrass and weathered wood.
Finally, think space, light and freedom – elements associated with the distant horizons and sun-drenched vistas of coastal living.
'Coastal decor ideas are informed by the landscape, but also by the architecture designed to sit among it, whether that's classic Cape Cod house style, Palm Beach villas, or bohemian California coastal,' says Andréa Childs, Editor of Country Homes & Interiors magazine. 'Natural light, open-concept spaces, an instinctive flow between indoors and out, and a feeling of freshness define the look of homes inspired by shoreline living.'
Coastal decor ideas: the fundamentals
'The color palette in a coastal-style home is foundational to achieving the look and feel you want to create,' says interior designer Courtney Wollersheim, from FLOOR360. 
'Start with warm gray, beige, white and ivory as your foundational colors and add a healthy dose of cozy blue and dusty green accents. The overall effect is sunny, soothing, light, and airy.
'Flooring options include hardwood or hardwood-look luxury vinyl plank in a light shade or whitewashed finish of white oak or with visible textured grain.
'Juxtapose smooth lines in couches, chairs, tables and finishes, with chunky textures in baskets and rope or rattan accents.'
From stormy waters to calm seas, golden sands to gray shingle, this is how to create your coastal decor ideas.
1. Paint a kitchen island sea blue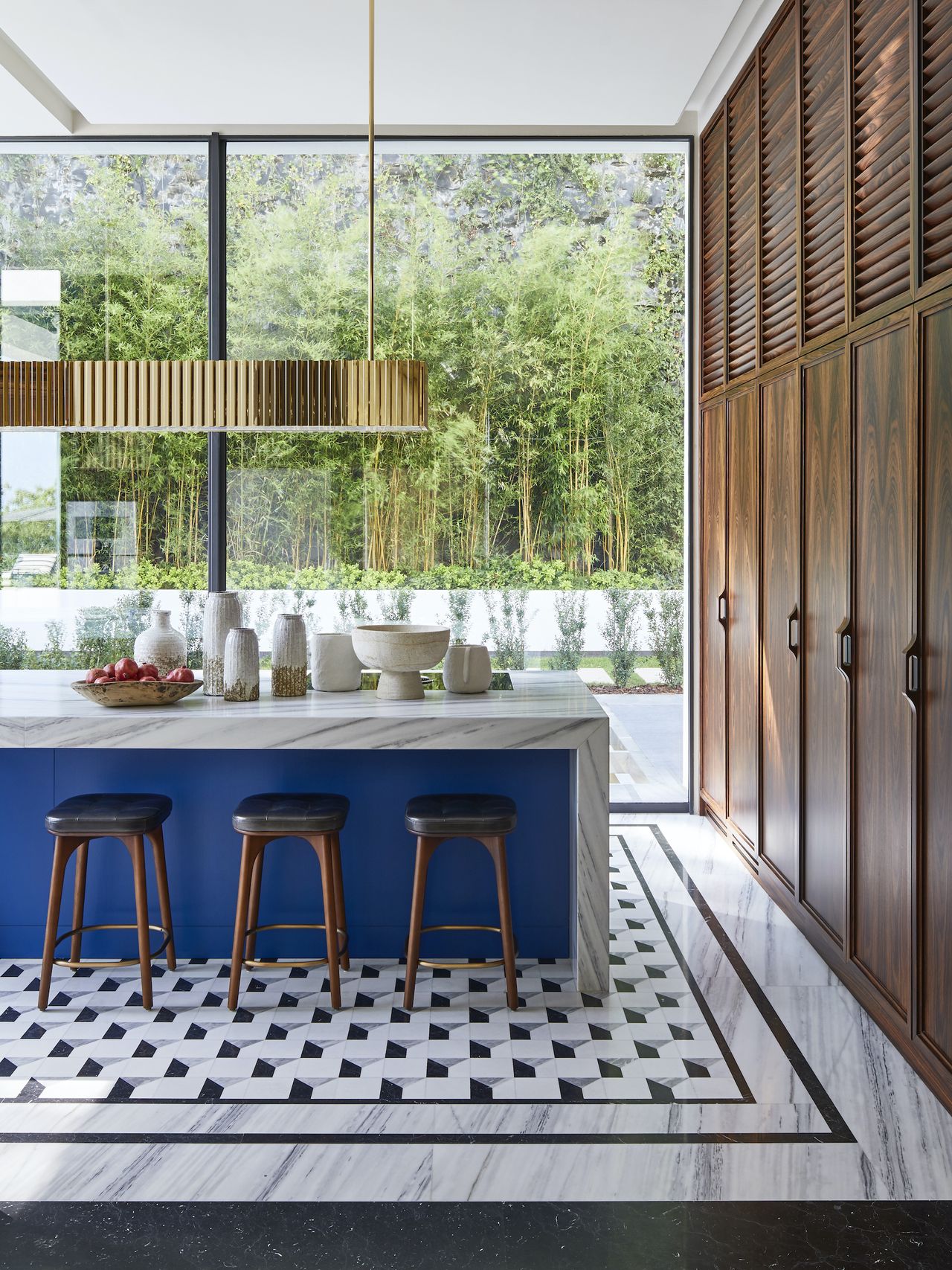 If you can't head to a tropical island, bring the clear blue waters to the island in your kitchen – it's a simple but effective take on blue kitchen ideas. 
This decor of this villa, designed by Humbert & Poyet, is informed by its location in Cannes, in the South of France. Inspired by the Mediterranean, a blue color palette can be seen throughout the interiors, even here in the kitchen, where it highlights the rosewood cabinets.
The open spaces allow for a natural flow of light, creating a fluid connection between indoors and out. 
2. Use the designer formula for coastal style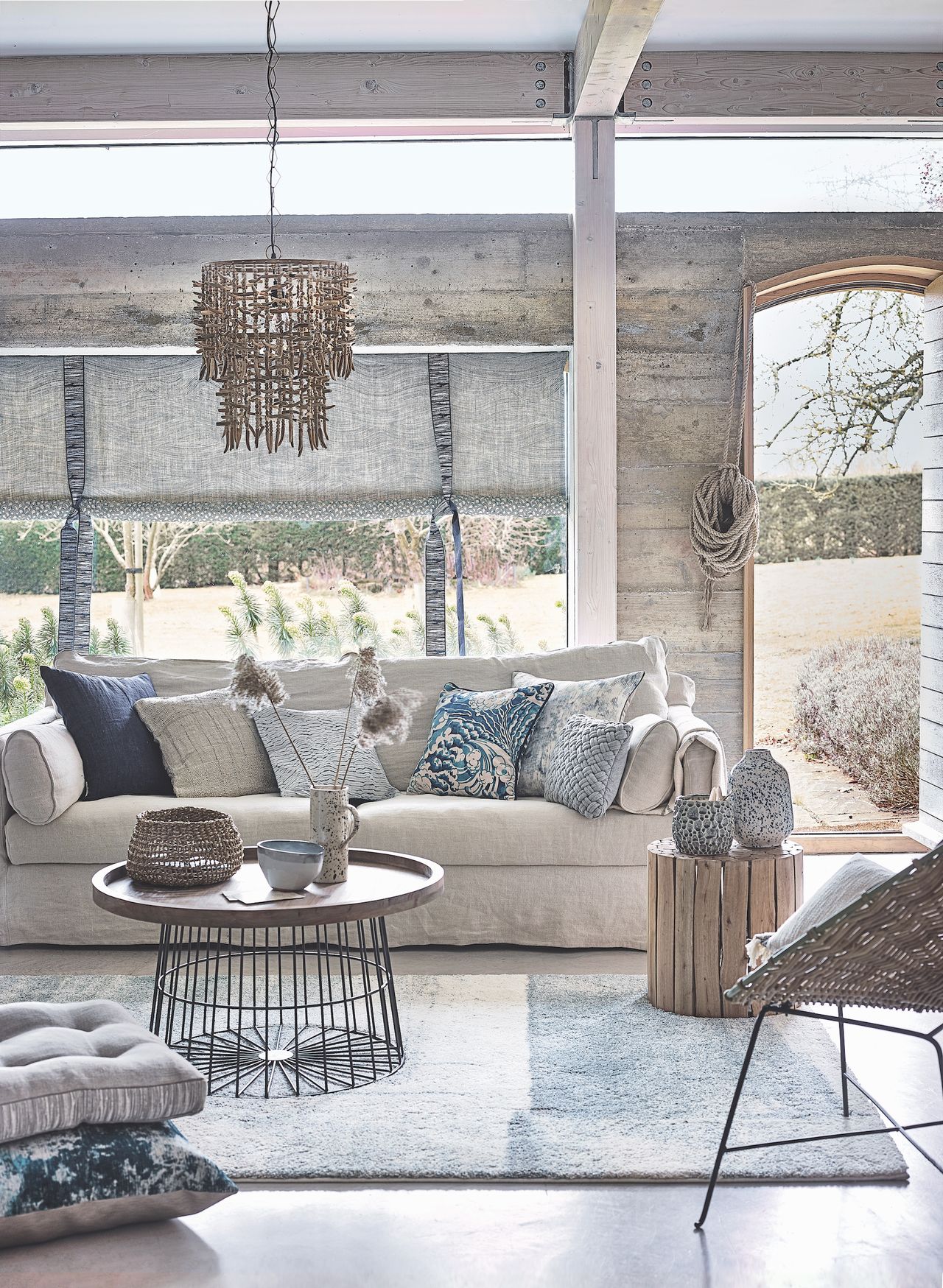 The key to coastal living room ideas is creating a light and airy space with light tones and neutral textures for a relaxed feel, then adding accents of bolder color to create lively focal points. Leah Keggi, founder of independent art studio CoastL Studio, explains.
'You can achieve this by focusing 70 per cent of your color (walls, furniture, focal patterns) in a room on lighter blues and neutrals that mimic the color of the ocean and beach. Then add in 20 per cent of greens and greenery, and 10 per cent of smaller decor and patterned pieces featuring richer pinks, corals, or navy.'
Here, weathered walls, natural linen and driftwood furniture and accessories create a backdrop for deep blue accent fabrics.
3. Dive into deep blue in the dining room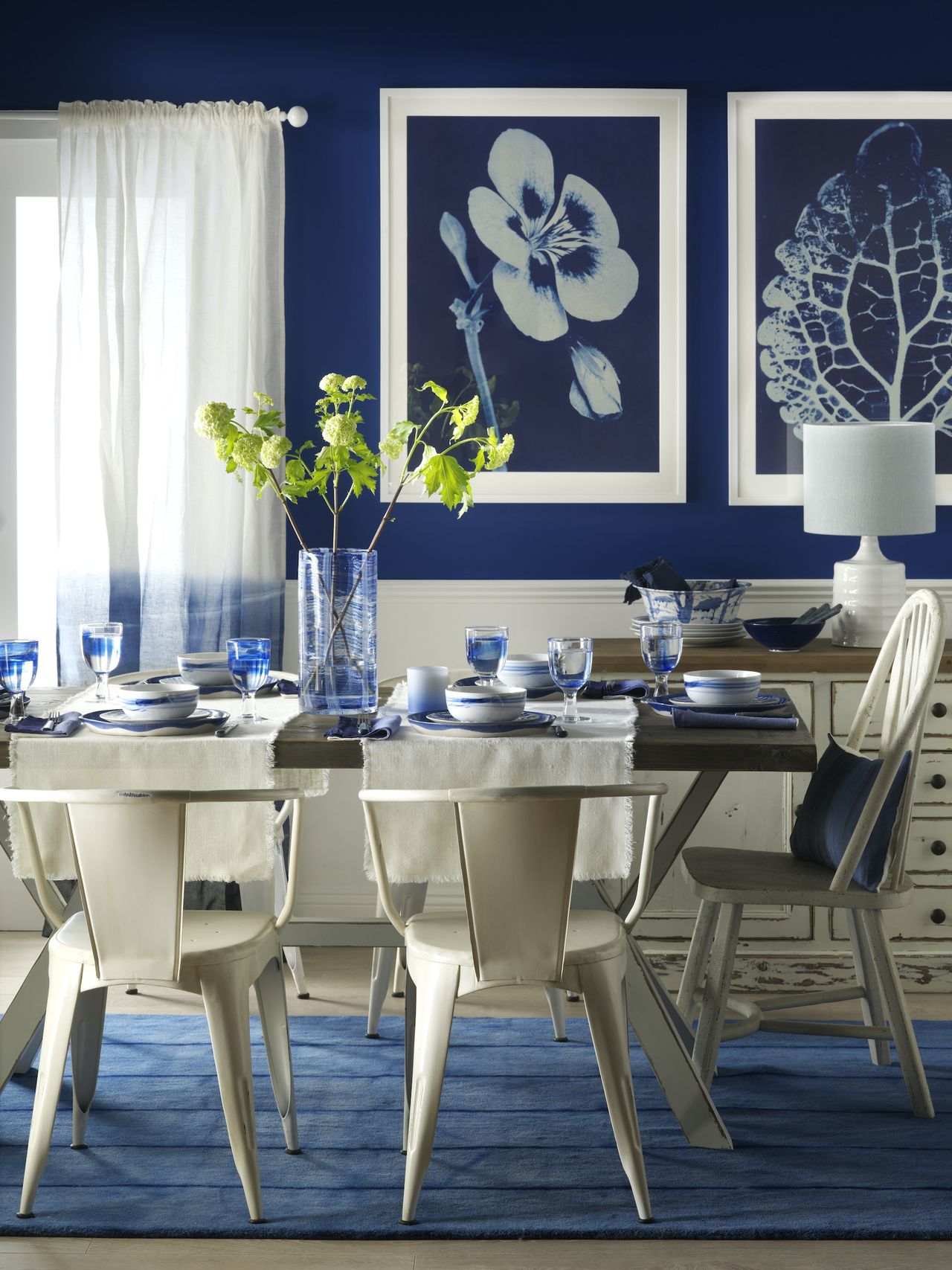 Don't be scared to take the plunge with deeper nautical tones of navy and inky ocean hues when it comes to blue dining room ideas. This strong palette sits beautifully in an entertaining space where it creates a sense of enclosure and intimacy that works for both day and night.
For a fresh, coastal feel, add in elements of white and cream to lift the scheme. Here, light voile drapes, and whitewashed furniture keep the look beachy.
4. Use shiplap for a seaside look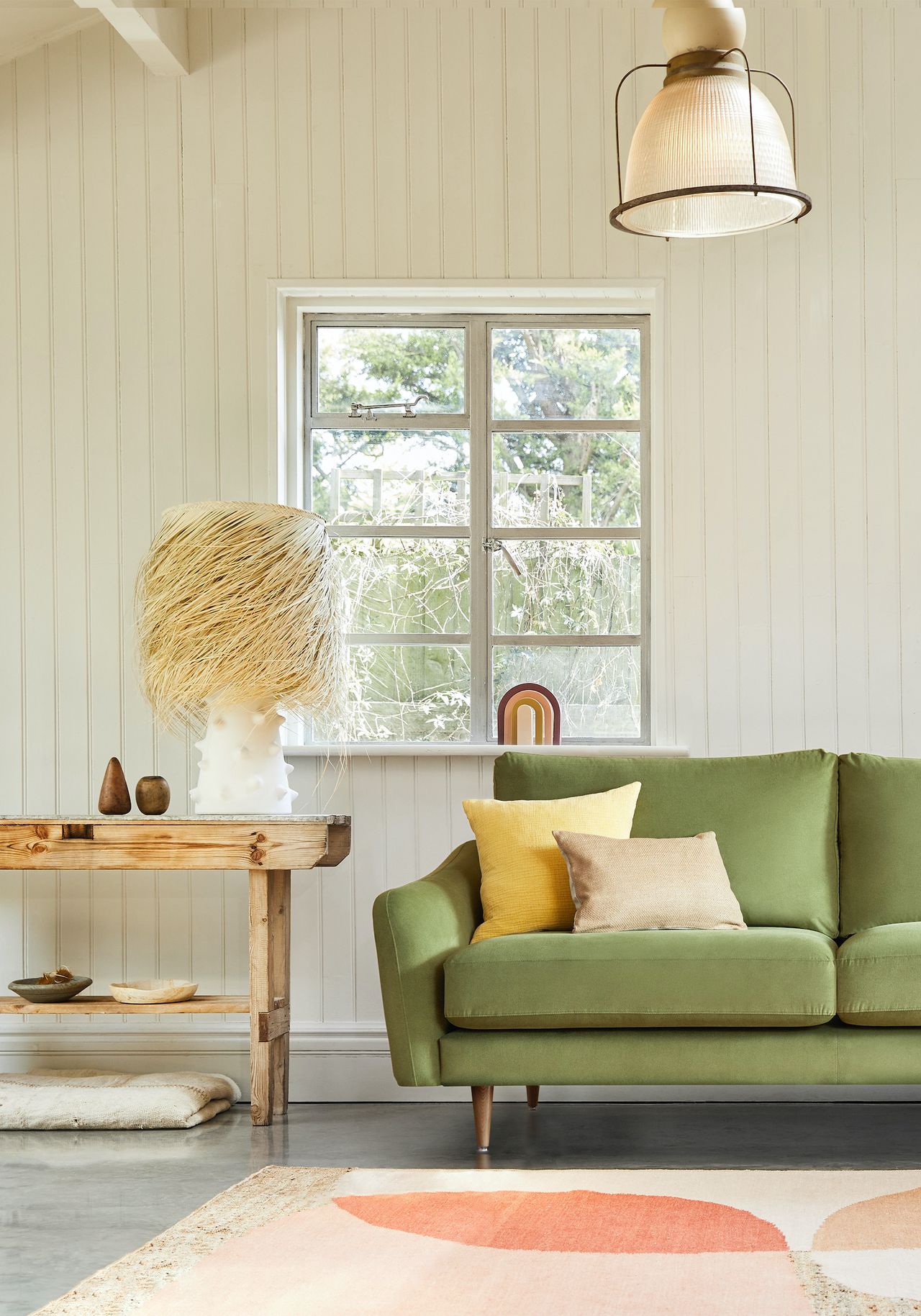 Wooden panelling ideas can transform the look of a room, and are a common feature of coastal interiors.
'We love to use shiplap in our coastal decor ideas because of the nautical feel it gives,' says Owner/Designer Anissa Swanzy, of SKD Studios in Newport Beach. 'Don't just consider neutral tones; we've painted shiplap navy for a client in a beachfront apartment.
You can defy expectations in other ways, too. Here, the green sofa swerves the usual coastal blue and white palette, but with the nautical pendant light, shiplap and rush lamp, the look puts a new spin on the typical beach look.
5. Add nautical motifs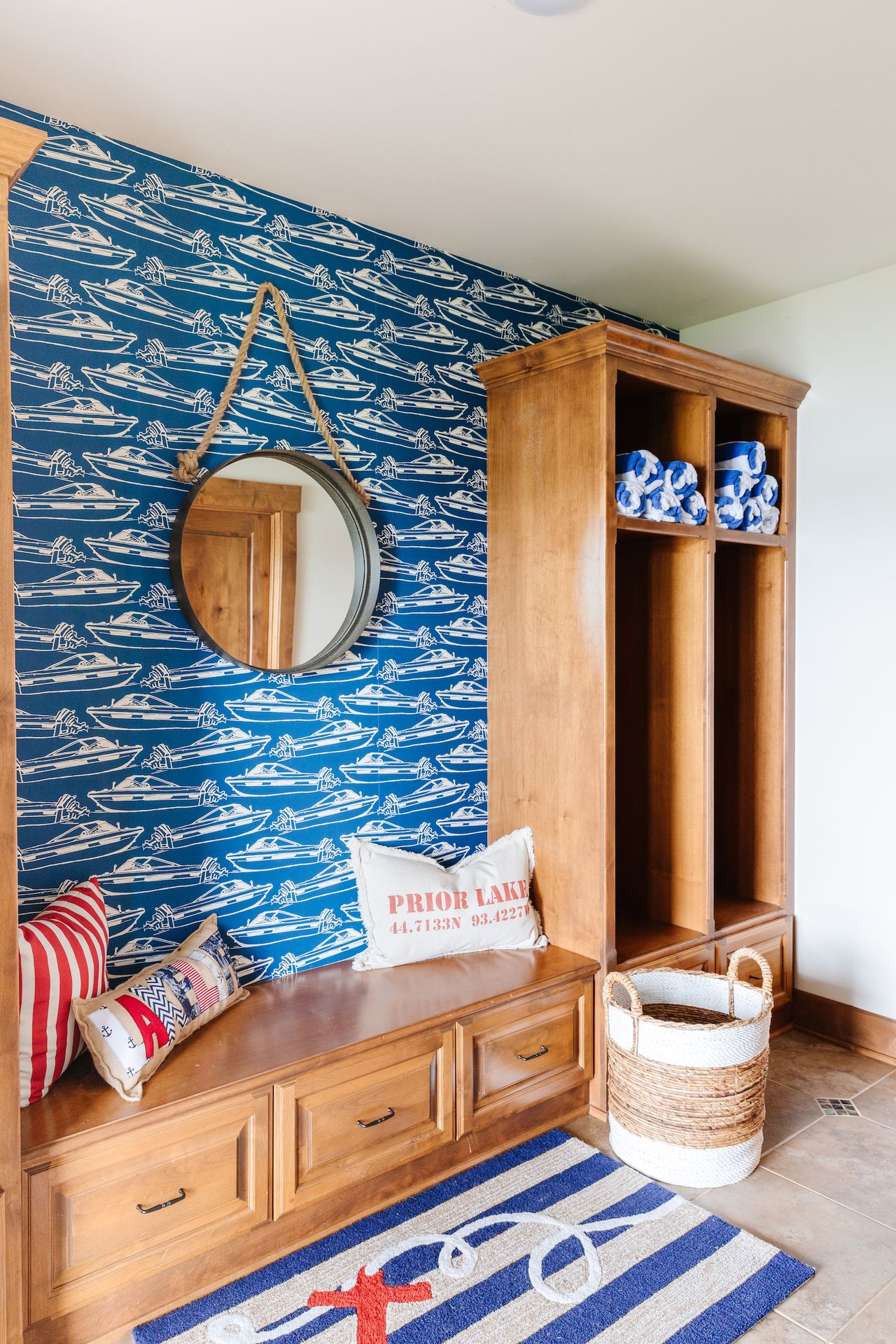 Nautical wallpaper and seafaring motifs give a maritime makeover to the usual mud room ideas and make this space perfect for a coastal home.
An entrance space like one, designed by Amy Leferink of Interior Impressions, sets the tone for a home, so the blue and white color scheme with accents of red is just right. To finish, a porthole-shaped mirror hung from a rope, complemented by a striped rug and coordinating towels, create a playful, uplifting space.
6. Add in some stripes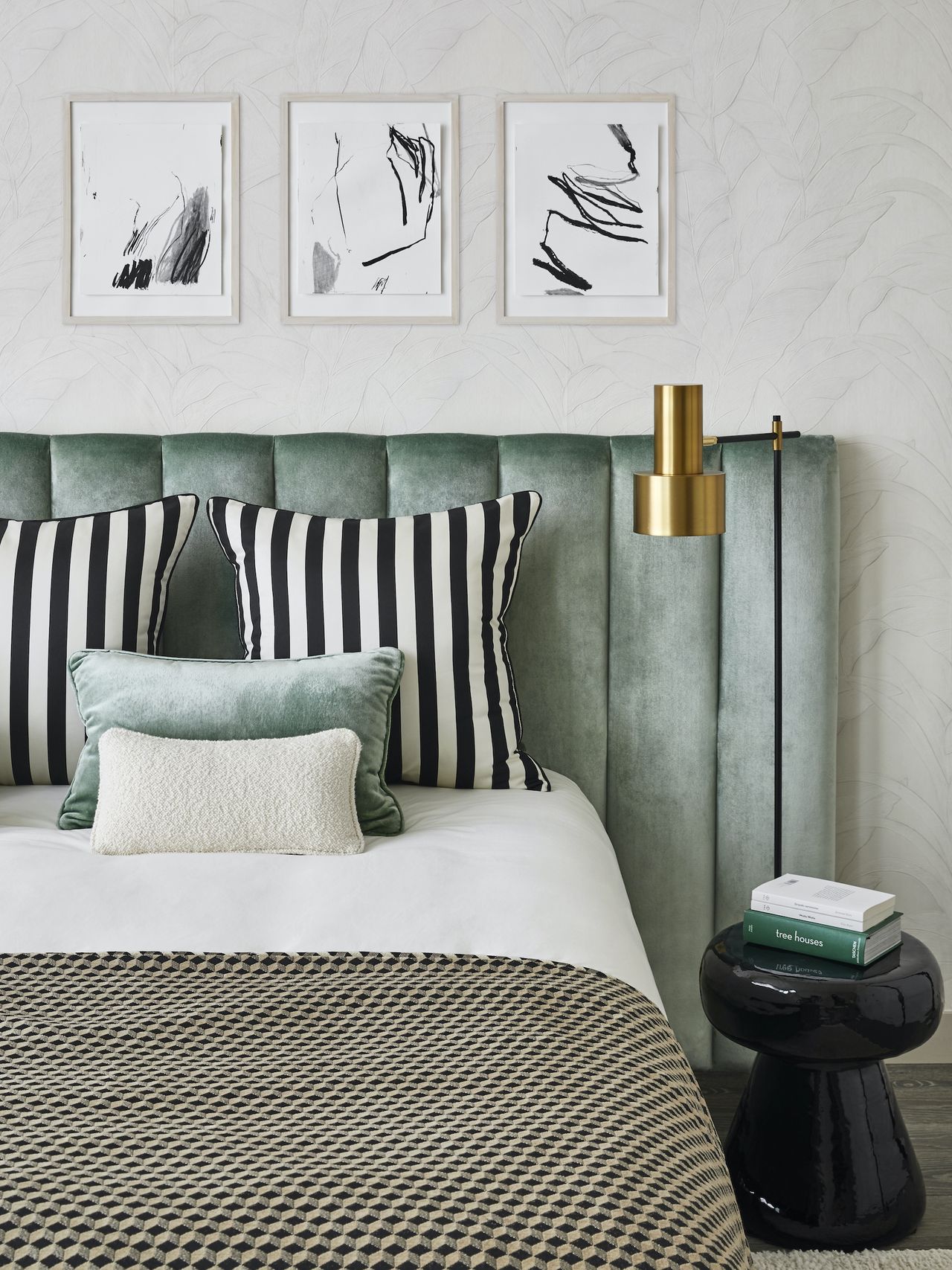 For an elegant, subdued take on coastal decor ideas, introduce typical design motifs in an unexpected way. It might be a twist on the usual coastal color palette, or a reinterpretation of pattern and texture, like this velvet headboard in sea-glass green, created by Humbert & Poyet for a villa in Cannes.
'Striped patterns are a nautical staple but bring these in subtly – for example, in cushion covers or delicately striped curtains,' suggests Connor Prestwood, interior designer at home decor brand Dowsing & Reynolds.
'Light blues, whites and hints of yellow are go-to colors for coastal, as they remind us of the beach and the ocean and naturally have a calming effect on us.'
7. Create a transitional space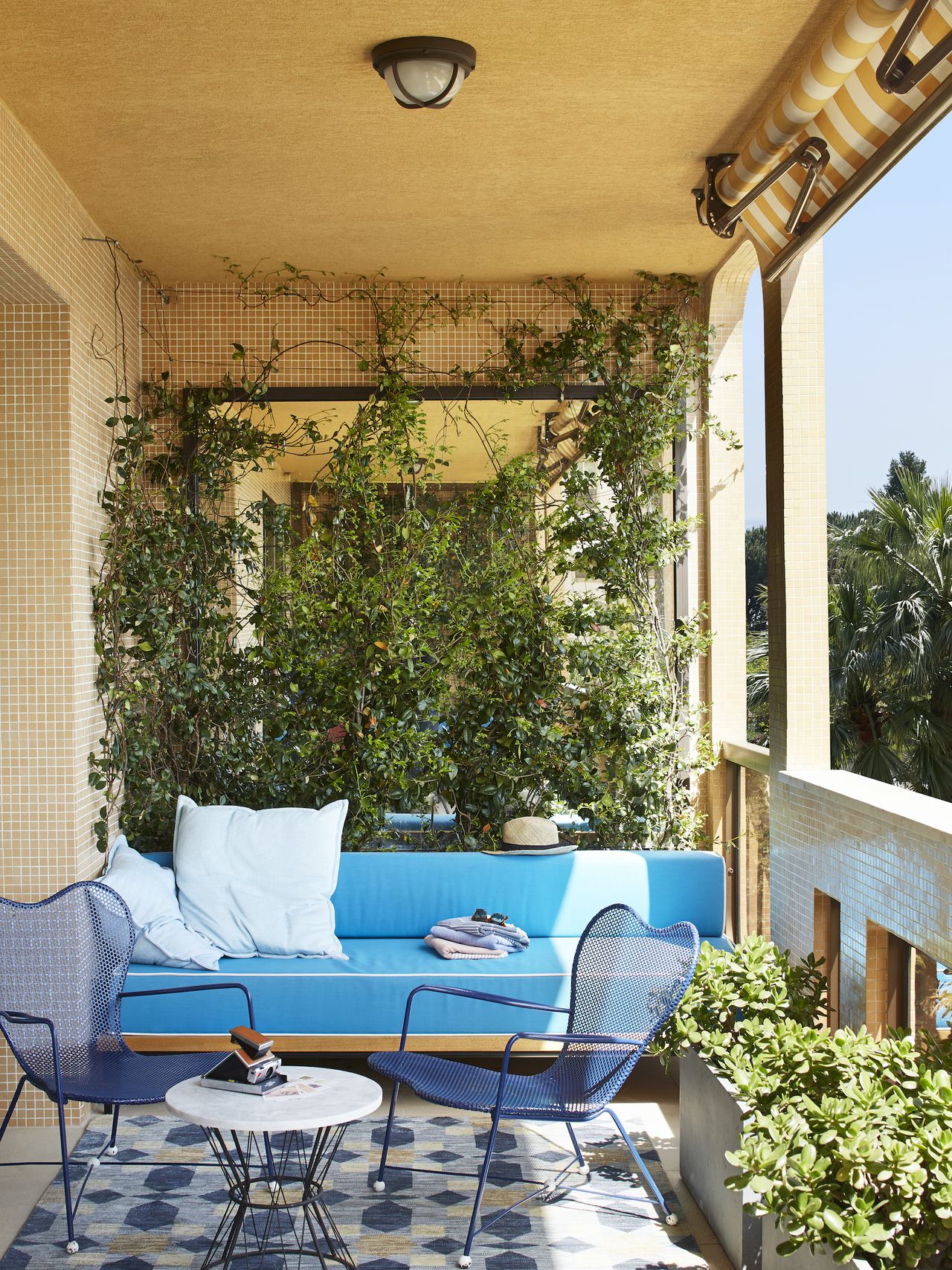 Coastal-inspired deck ideas are a chance to create a visual bridge between a beach setting (or coastal garden planting scheme) and your home. 
On this terrace, designed by Humbert & Poyet, the clear blue couch and tiled floor bring a look of the sea and turn this transitional space into another coastal setting.
8. Give coastal decor a contemporary edge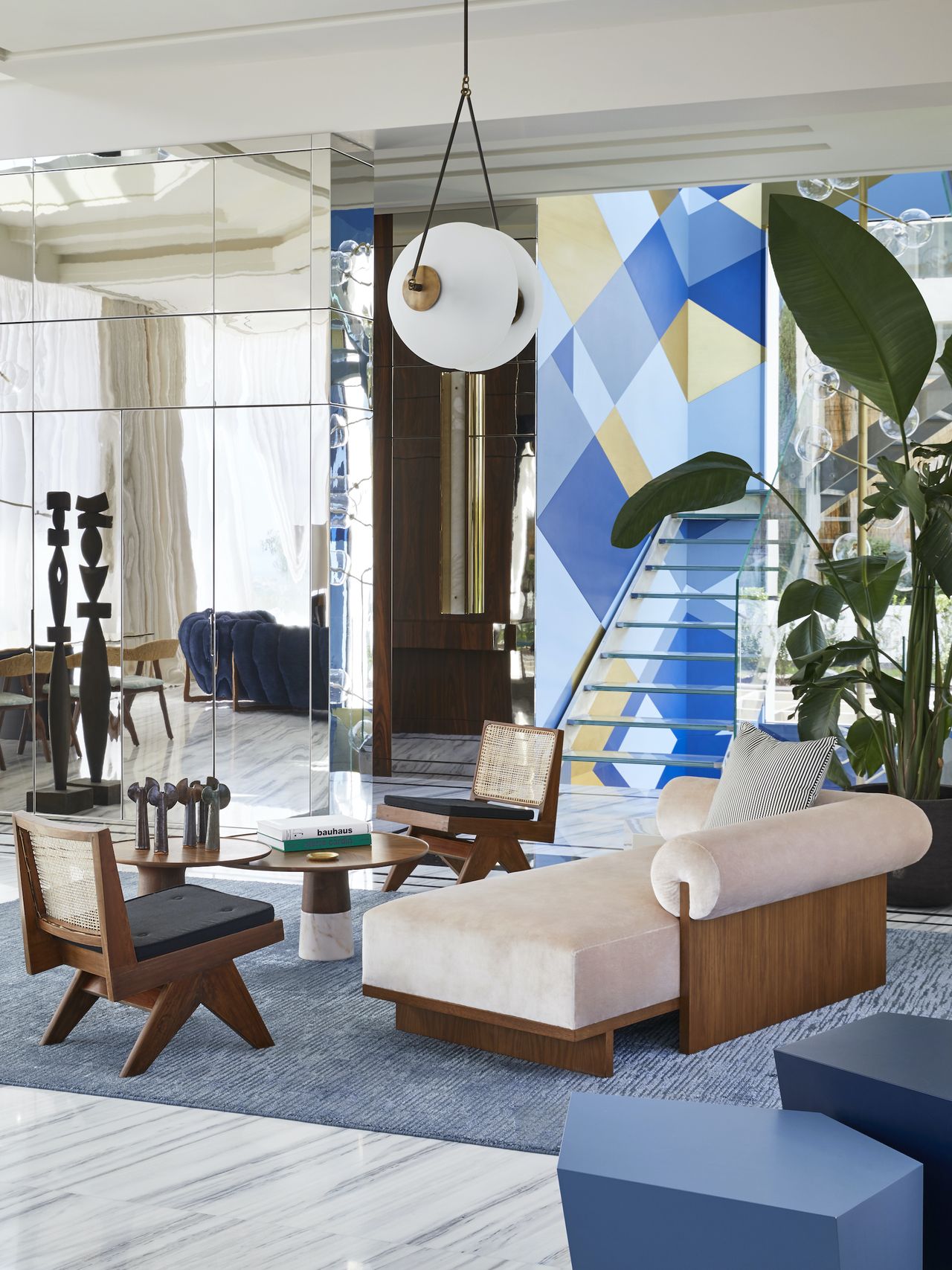 Your coastal decor ideas can be as simple as using a color palette inspired by sea and shore, without any obvious nautical references.
'I love coastal designs that emulate the coastal lifestyle and feeling without having a literal interpretation of the coast. So I say, skip the seashell, beach and under-the-water-themed decor and elevate the look,' explains Andra DelMonico and I'm the Lead Interior Designer for Trendey.
'If you do happen to like these motifs, use them sparingly. Focus on selecting a color palette that reflects the type of coastal living you want to emulate. The colors you choose will look very different for a nautical northeastern theme and a southern/Caribbean tropical theme. You can't go wrong with a white, blue, and neutral combination. 
'Accent the space with natural materials, like teak, acacia, cedar, or redwood.'
9. Create a painterly look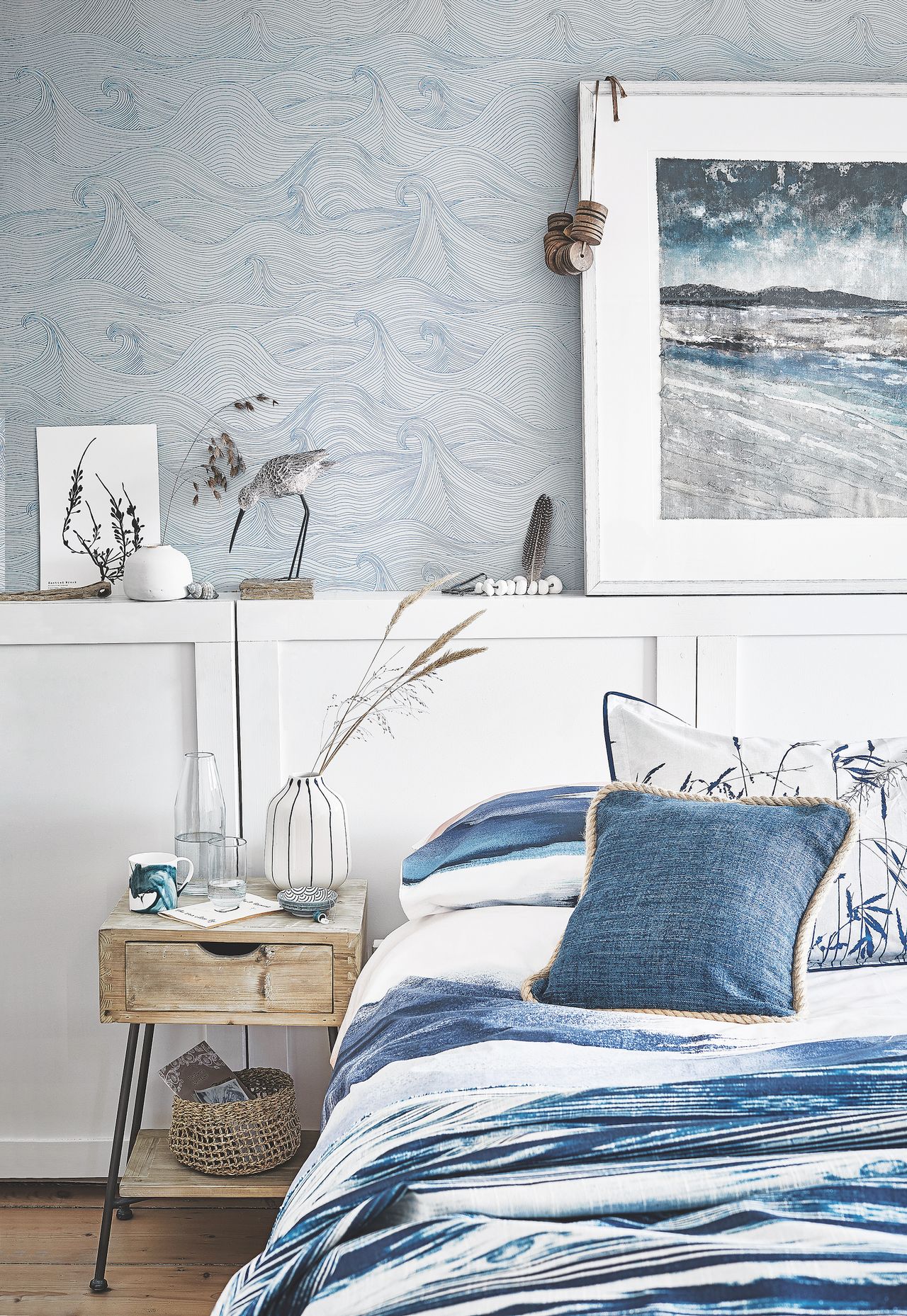 The sea and coastal landscapes have inspired generations of artists, so why not use a painterly approach as a canvas for your coastal decor ideas?
Watercolor bedding, wave-patterned wallpaper and artworks with an ocean theme all contribute to this artistic interpretation of the coastal look.
Add in weathered wood furniture and panelling to ground this airy, romantic look.
10. Source some sea shells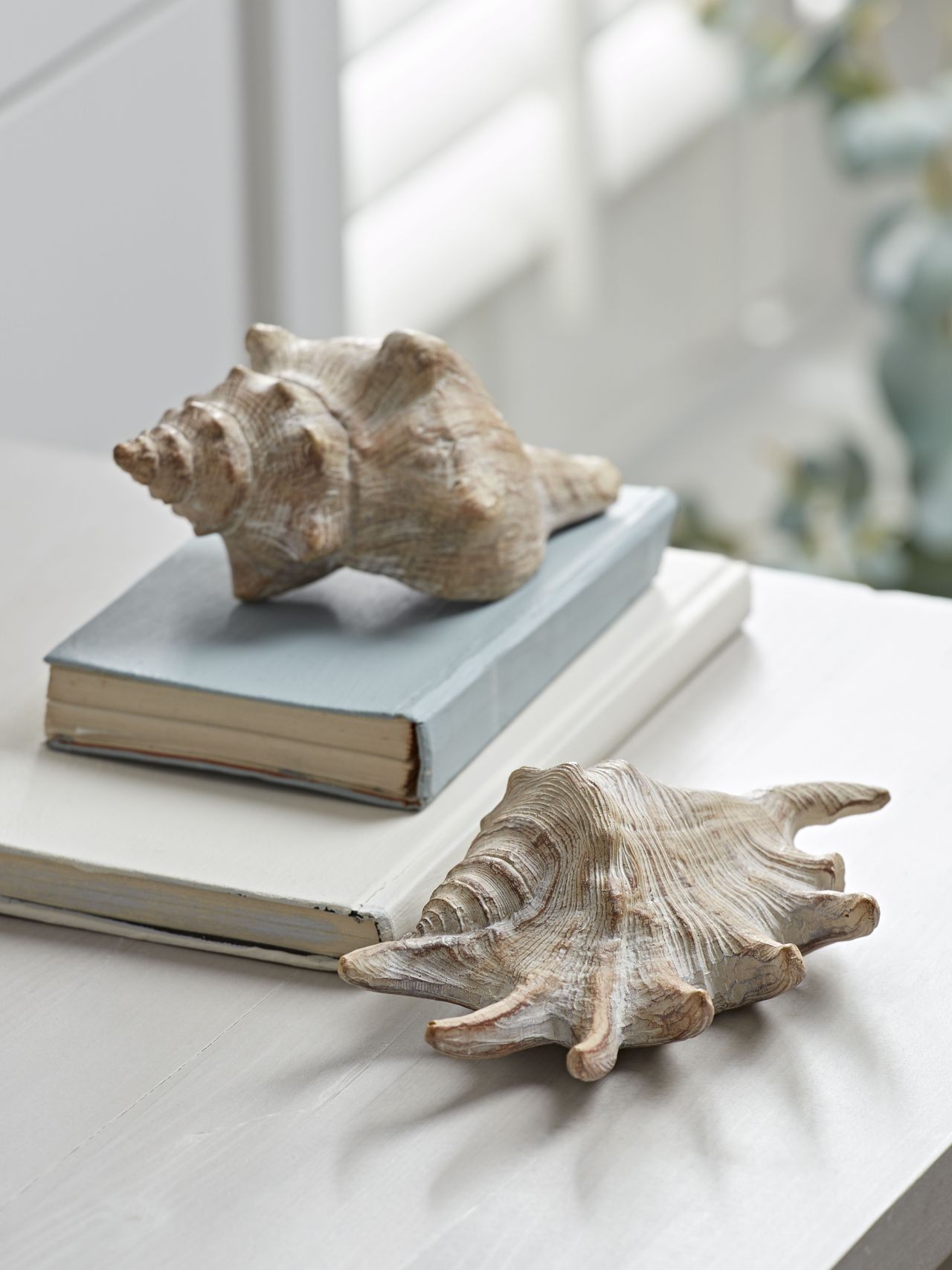 While too many seaside accessories and trinkets can overwhelm a room, a few carefully chosen accessories can introduce the coastal theme in an elegant way.
Decorate with replica resin shells and coral, or display beachcomber finds such as pebbles, sea glass and shells in glass jars for a subtle coastal decor idea.
Keeping the palette muted will maintain curated look.
11. Add in coastal decoration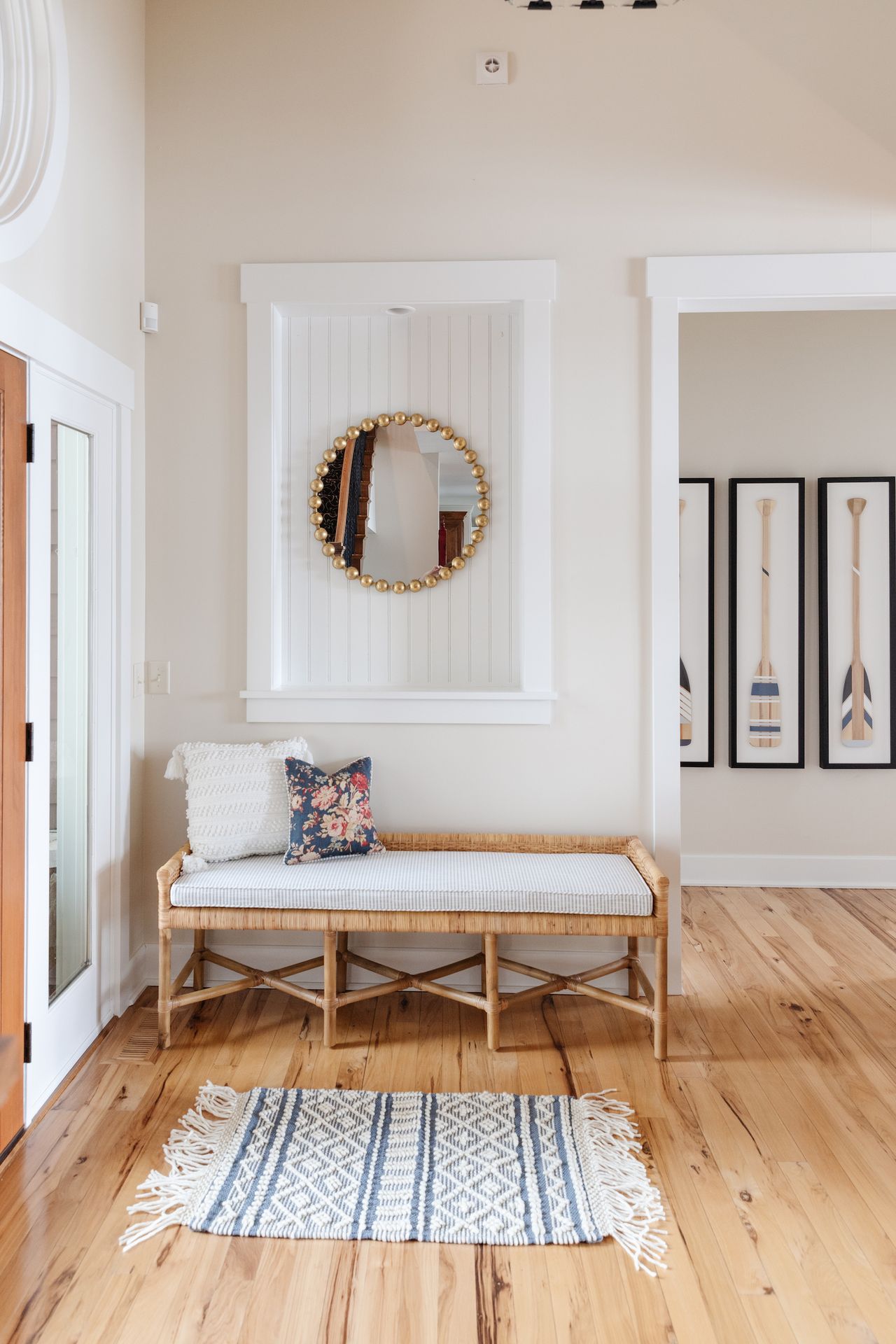 Browse coastal markets and antiques stores for interesting decorative finds. 
'Furnishings in coastal rooms often have a nautical feel, with rope accents, seashells, and other beach-inspired details. Decorative approaches can vary from room to room, but often include elements like wicker baskets, driftwood sculptures, and seascape paintings,' says Lily Wili, Founder of Ever Wallpaper.
In this hallway, designed by Amy Leferink of Interior Impressions, rowing oars provide a graphic nautical display that is complemented by the stripes of the rug and  upholstered seat.
12. Decorate a deck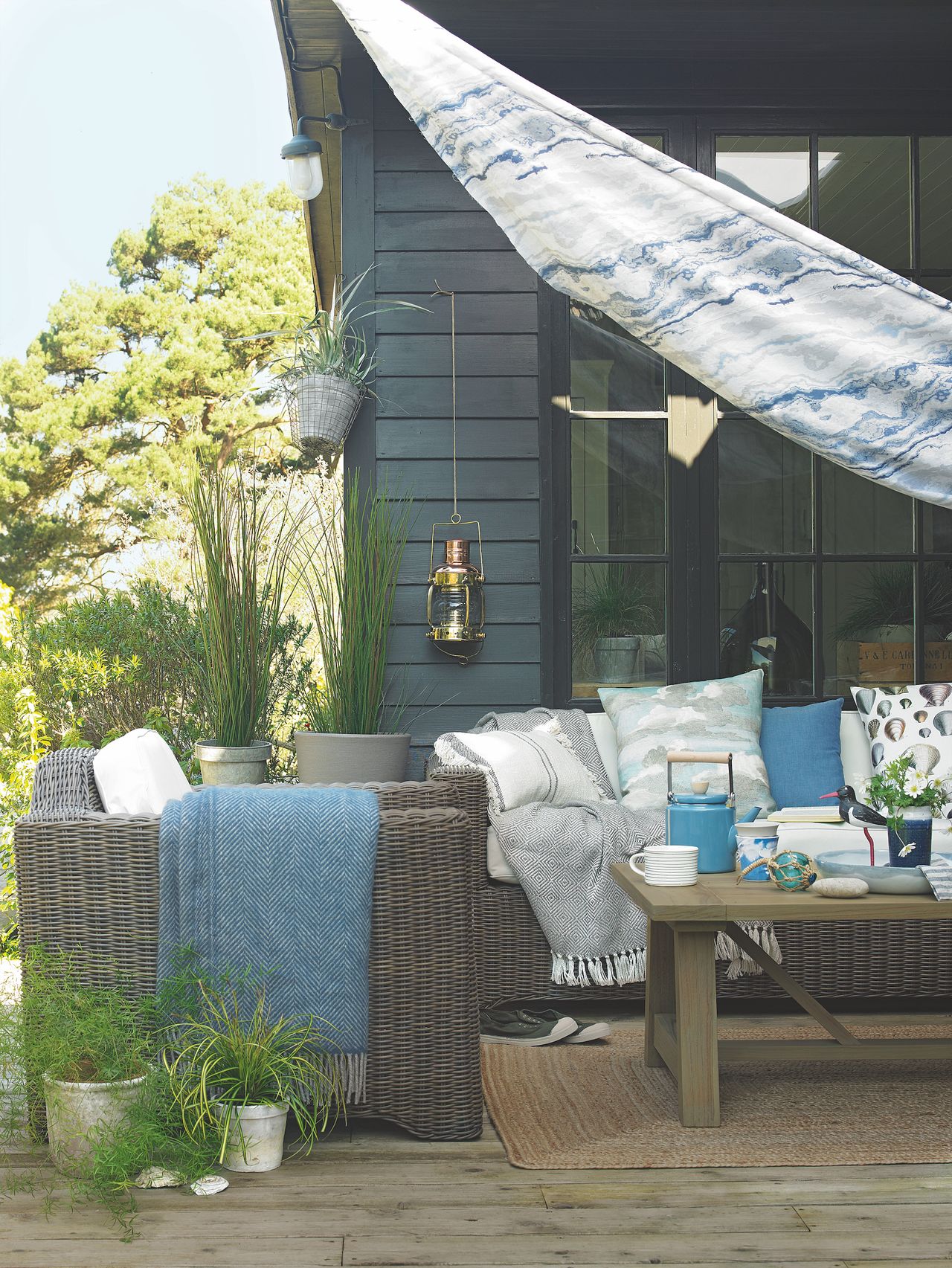 All the principles to the coastal decor ideas you bring inside the house, also apply outside on a deck or terrace.
'When it comes to coastal decorating schemes, colors play a huge role,' confirms Jen Stark Founder of Happy DIY Home. Think light green and blue hues, bleached whites, and sandy beige tones to mimic the sand and sea look. You can also consider incorporating driftwood browns and grays, beach pebble gray, dune grass green, and the colors you find in seashells. For vibrant hints of color, add orange or yellow to mimic the sun, and the bold reds of umbrellas or shore flowers.'
It's also essential that you narrow down to relaxed simplicity – especially in an outdoor living space. 
'Materials and furnishes that can take wear and tear are key,' says Jen. 'Consider adding streamlined, simple furniture alongside distressed and weathered pieces. Using outdoor fabrics in your rugs or on your cushions is another viable option.'
13. Perk up your planters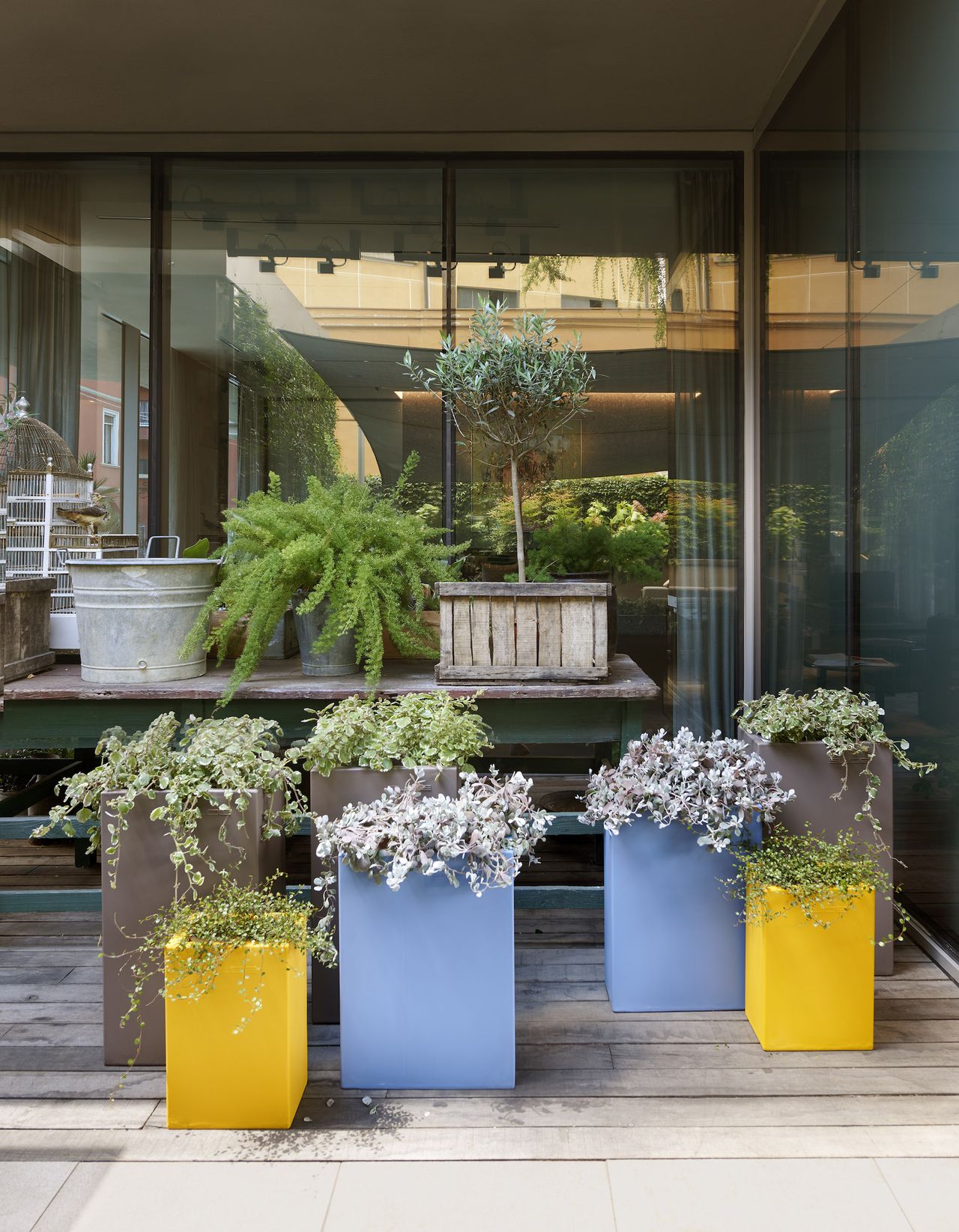 Use a seashore-inspired color palette to transform simple containers. Boardwalk brown, sandy yellow and sea blue bring the beachscape to your balcony or garden.
For added authenticity, plant them with coastal plants – not only will these suit your coastal decor ideas and scheme, if you are situated by the sea, they will withstand salty air and harsh sea breezes, too.
14. Use art as a coastal accent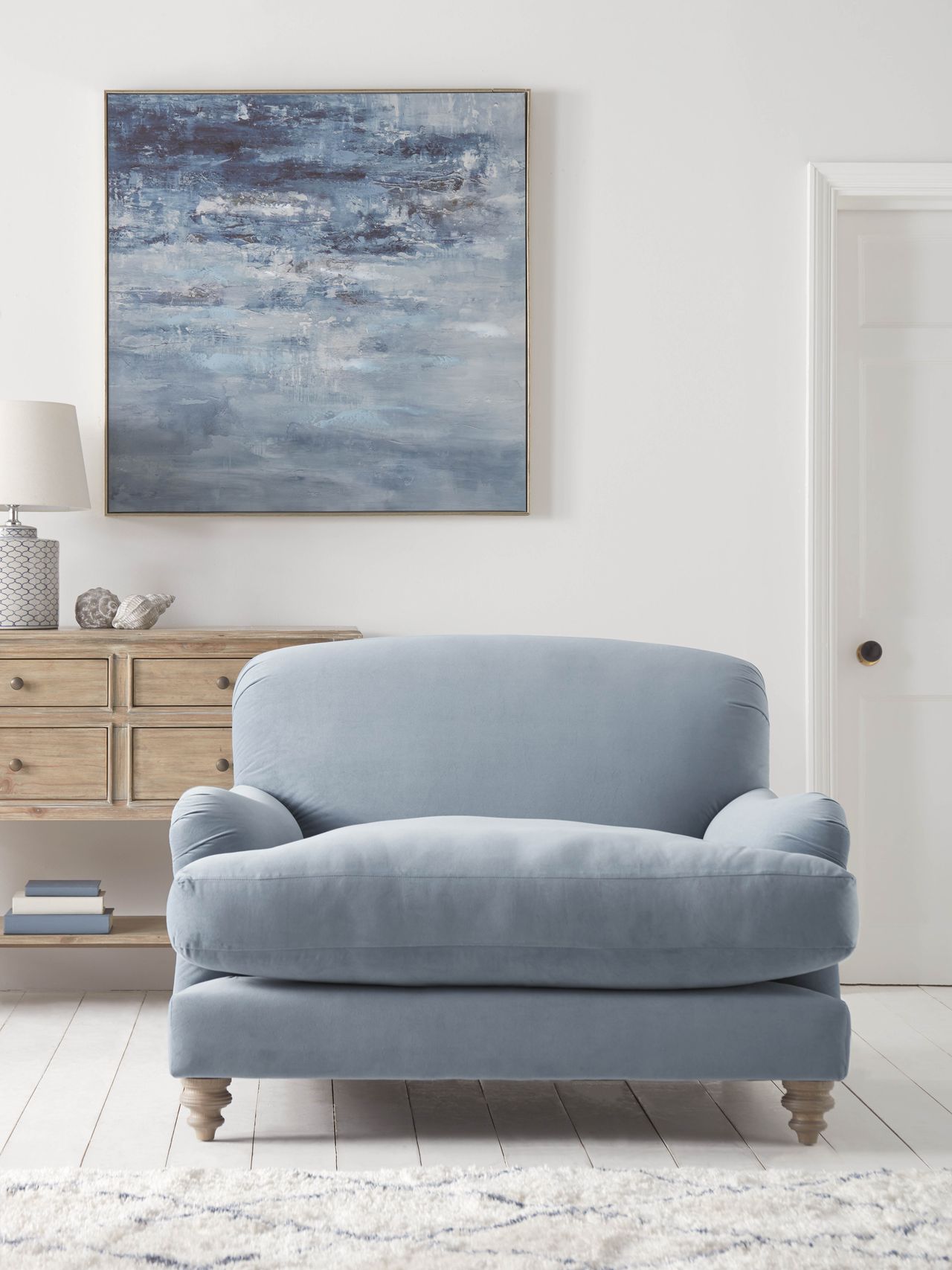 Interior designers often use an artwork as the basis for a room's color scheme, whether they pick out a single shade or incorporate the entire palette from the picture. This approach works particularly well when you're refining your coastal decor ideas, as you can use the image as your guide. 
'You might choose a seascape of predominantly blue and gray tones, with white crests on the waves. Or look for beach scene that incorporates sea, sand, shore and even people and houses, for a more colorful palette,' suggests Andréa Childs, Editor of Country Homes & Interiors.
15. Bring coastal decor into a bathroom – subtly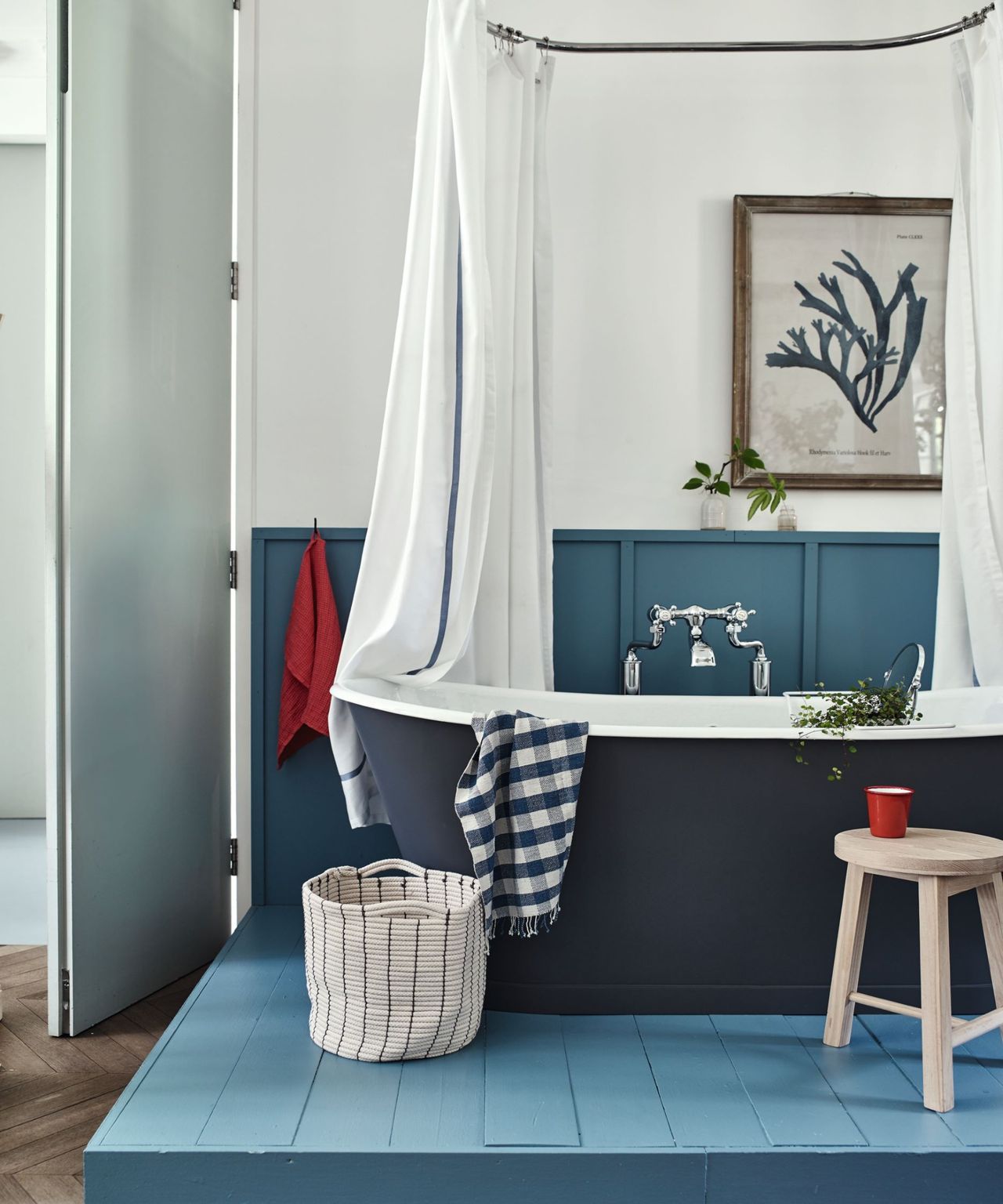 A bathroom is the perfect space for coastal decor, but you can overdo it, ending up with a space that looks themed. 'I love the approach taken in the bathroom, above,' says Homes & Gardens' Editor in Chief Lucy Searle. 'Red, white and blue is always elegant and smart, and if there is the merest hint of a seaside motif, you can get away with what is quite a traditional approach.'
How do you decorate with a coastal theme?
'Coastal design has been around for centuries, largely because it was the manner in which people decorated their waterfront or seaside homes,' explains Amy Leferink, Founder and Principal Designer of Interior Impressions. 
'This design aesthetic began very much as a product of the environment when in a beach or lake house. For instance, pulling from the landscape surrounding the home to inform the interior color scheme, or using the natural materials and items, including rope, raffia, or woven materials, that are usually found nearby coastal lands. 
'Over time this look has evolved to be less literal, and more an overall interpretation subject to the designer or homeowner and how they choose to bring the outside in, regardless of the home being situated in a coastal location. 
'It is meant to evoke a feeling of being near the water; bringing the relaxation, ease, and casual vibe of waterside living to everyday life.'
What is modern coastal decor?
'Modern coastal decor has no need to place shells and "beachy" things around to create a coastal inspired space,' says Connor Prestwood, interior designer at home decor brand Dowsing & Reynolds.
'Stick to lighter, neutral colours to keep the space fresh and relaxed. Then incorporate earthy textures like linen and rustic wood finishes to add interest and give your eyes places to naturally land around the space.' 
What colors should I use for my coastal decor ideas?
'When you are wanting to decorate your space in a coastal design, color is key,' says Zara O'Hare, Interior Design Consultant at Land of Rugs.
'In terms of the main colors for the space, you need to be using creams, blues and whites but you can also use green if done smartly. Think of the colors you see when you visit the coast – these colors should be key in your home! 
'You might pair cream sofas and rugs with blue statement walls. The green in your space can also be added with plants to your space.'